Snowshill Quilted Jacket: Muslin Stage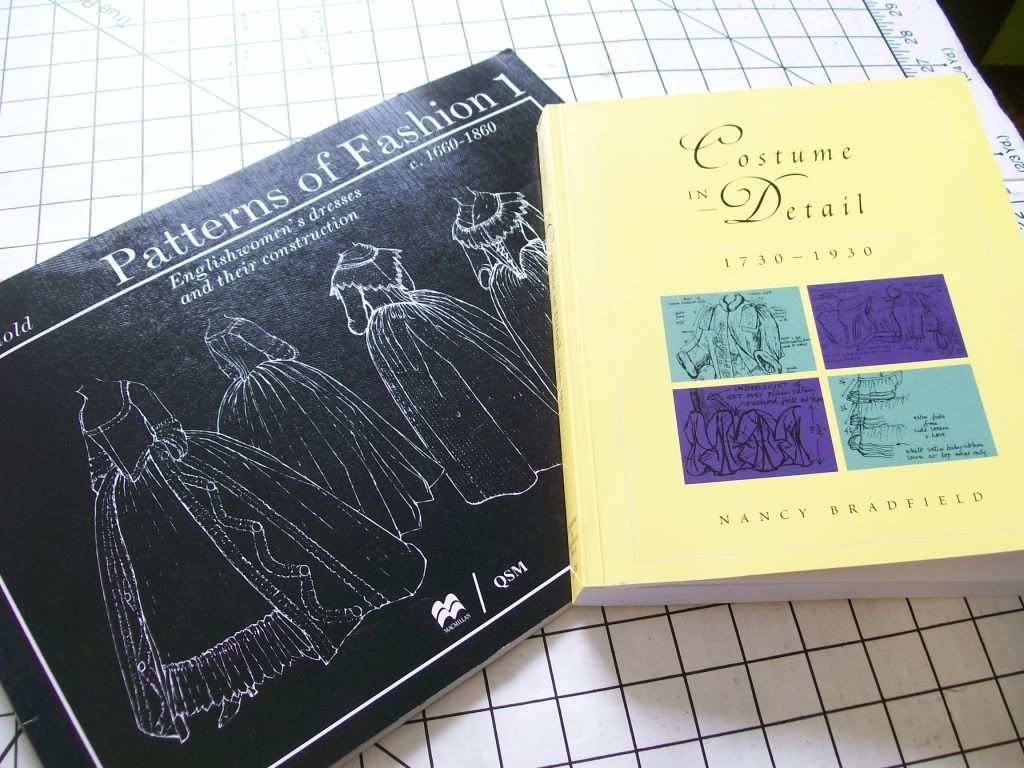 I've been alluding to a special project I have in the works. Anyone with even a hint of historical costuming love in their bones could probably figure out what it is. I've mentioned mid-18th century, outer wear, trapunto, cording and quilting. So, it's not hard to deduce that I'm making a quilted jacket. Specifically, I'm making the c.1745-1755 Snowshill Manor jacket found in both Janet Arnold's Patterns of Fashion 1, and Nancy Bradfield's Costume in Detail. What I love about this jacket, (other than the quilting, trapunto and over-all look...ha!) is that it was made for a more stout woman...like me. So, it's not hard to adapt to my size.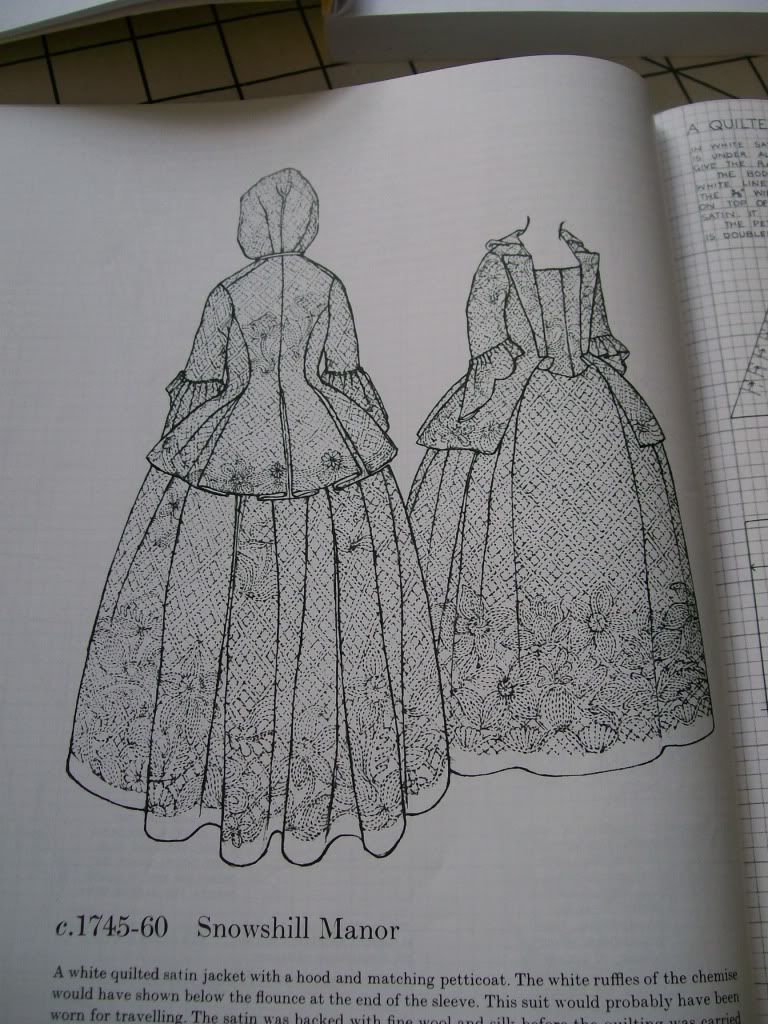 Here's a view of the jacket in Pattern's of Fashion. This drawing gives great structural views, and of course the book gives a graphed pattern. I didn't use the graphed pattern for anything other than a visual reference. I used bits and pieces of other patterns I've drafted in the past and combined those with draping to create this jacket.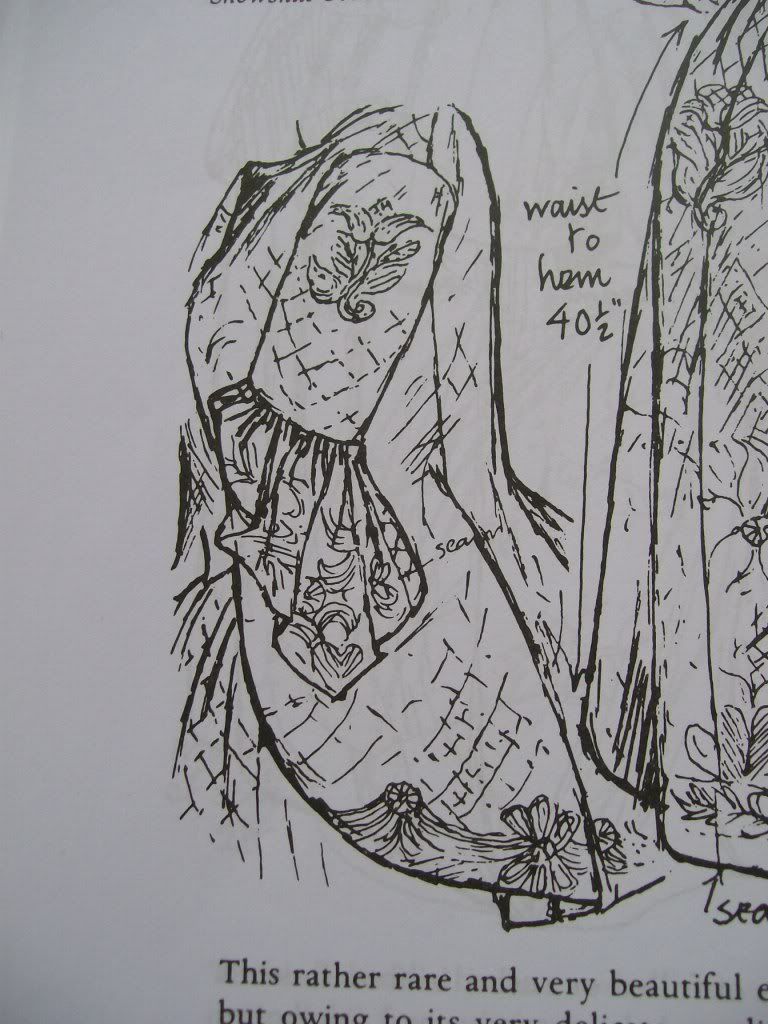 This is an image of the jacket from Costume in Detail. What I love about this book is that it documents what the interior of the garment looks like, how the seam construction is done (somewhat) and it has great sketches of what the quilting on the jacket looks like.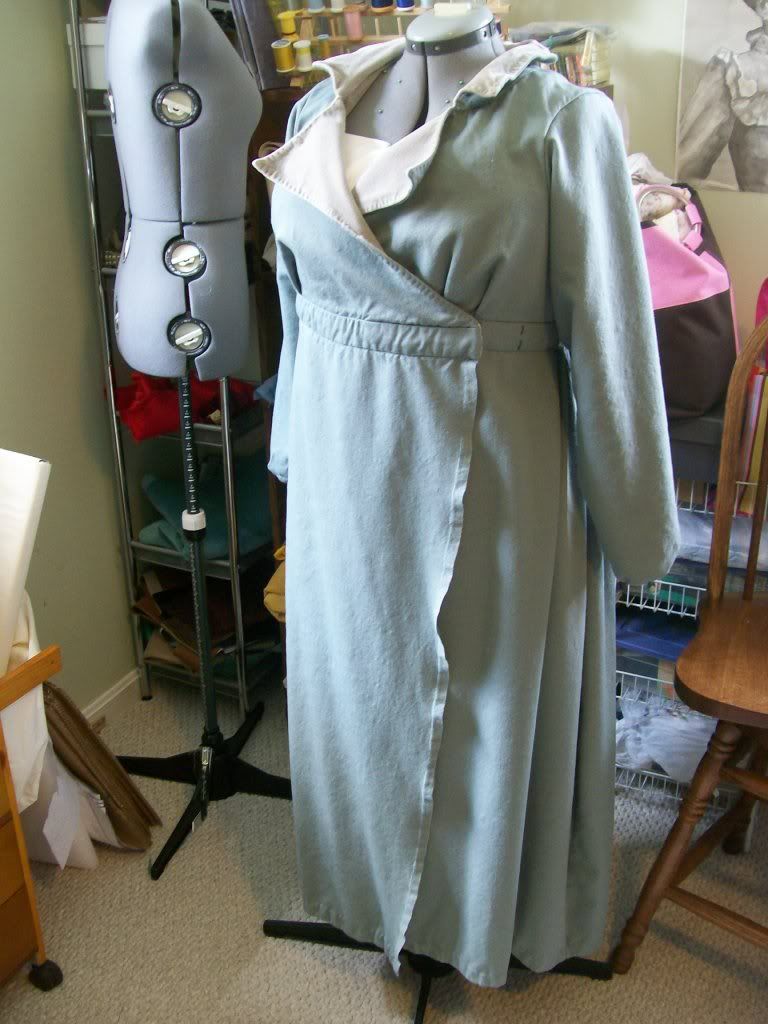 Remember
this "Marianne" Pelisse that I spent so much time on?
Well, it was almost a year ago that I started on this Pelisse....and....well...it's been hanging in my closet that whole time, unworn, and very much unloved. I'm REALLY very dissatisfied with the way it turned out. It looks frumpy on me, not graceful like the one Marianne wears. The collar is a mess, and no matter what I did to try to fix it, it still curled up around the edges. The sleeves are too short, and the pleats looked ugly to me. In general, I'm sick of it, can't imagine ever wearing it, and don't have the desire to redo it. So, I've decided to recycle the gorgeous blue-gray wool and use it for the Snowshill jacket. The original Snowshill jacket is made of white silk and cream colored satin, but I don't want to pay for good quality silk right now, nor would I wear a white jacket...think of how fast it would get dirty. So, I'm more than happy to use the Pelisse wool for the jacket.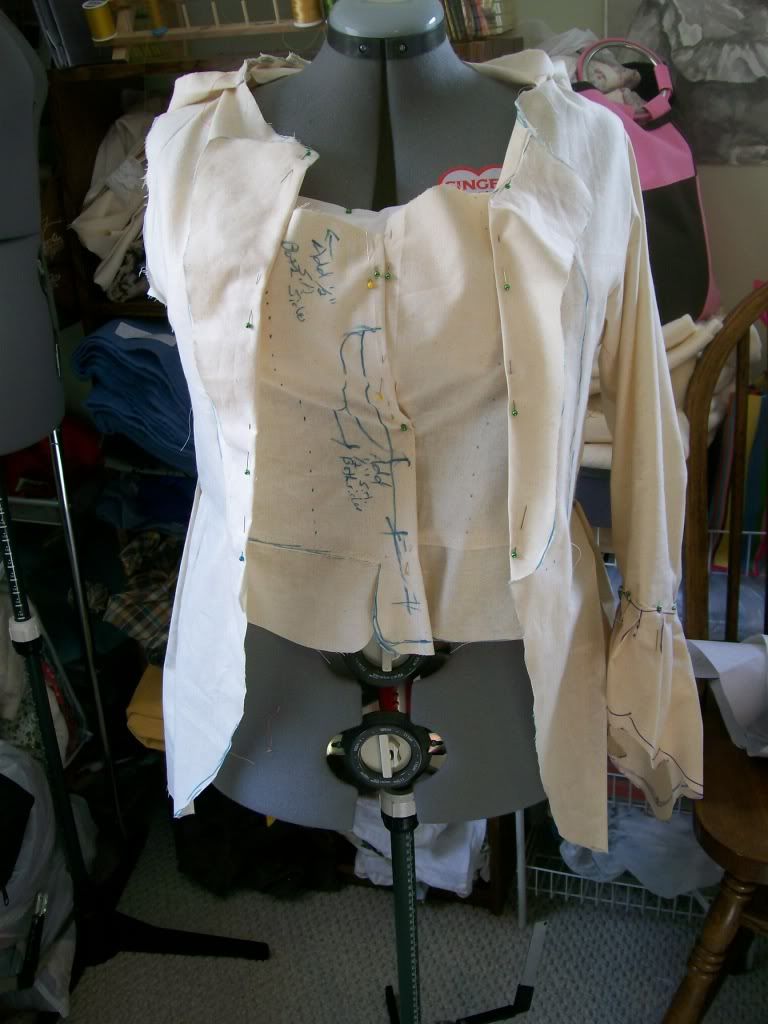 The muslin stage is complete at this time. I have to mention that I'm not completely following the Snowshill jacket down to every detail. What I've changed is minimal though. First of all, I'm planning on wearing this jacket for modern life, even though I will be hand sewing it, and constructing it using 18th century techniques. This means, of course, I will not be wearing stays under the jacket, nor will I be wearing hoops and a gigantic petticoat.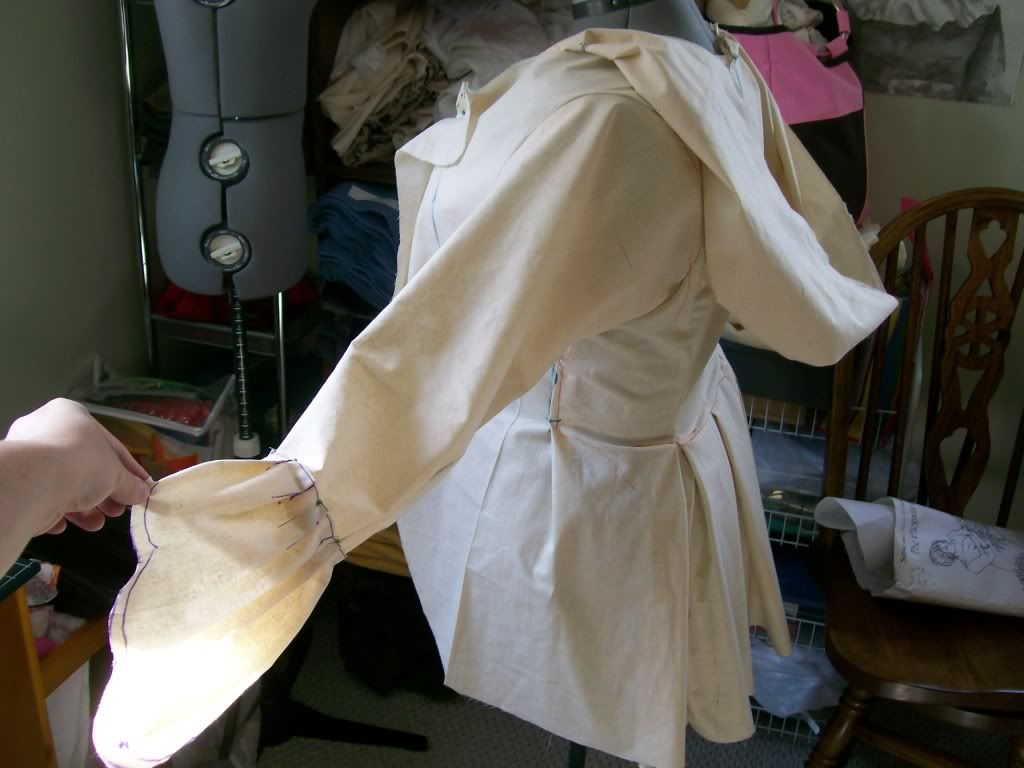 I've shortened the back peplum ever so slightly, since I won't be wearing a petticoat and hoops. I've lengthened the sleeve just a bit, so that I can wear more modern garments underneath and it won't look so proportionally strange to the length of my shirt sleeves. I've also adapted the false front, to fit a curvy, or natural silhouette, since I won't be wearing stays.
If I ever decide to wear the jacket as a "real" 18th century jacket with stays, petticoat and all, I can always re-work the false front to lay flat over the stays, and I can shorten the sleeves. Nothing major or life threatening to the jacket's integrity that can't be fixed.
The hood has got to be one of my favorite parts of this jacket. The pleats are gorgeous, and I love how the hood drapes. I've wanted a hooded jacket for a very long time, but I've never found one that didn't look like a big snow-ski parka.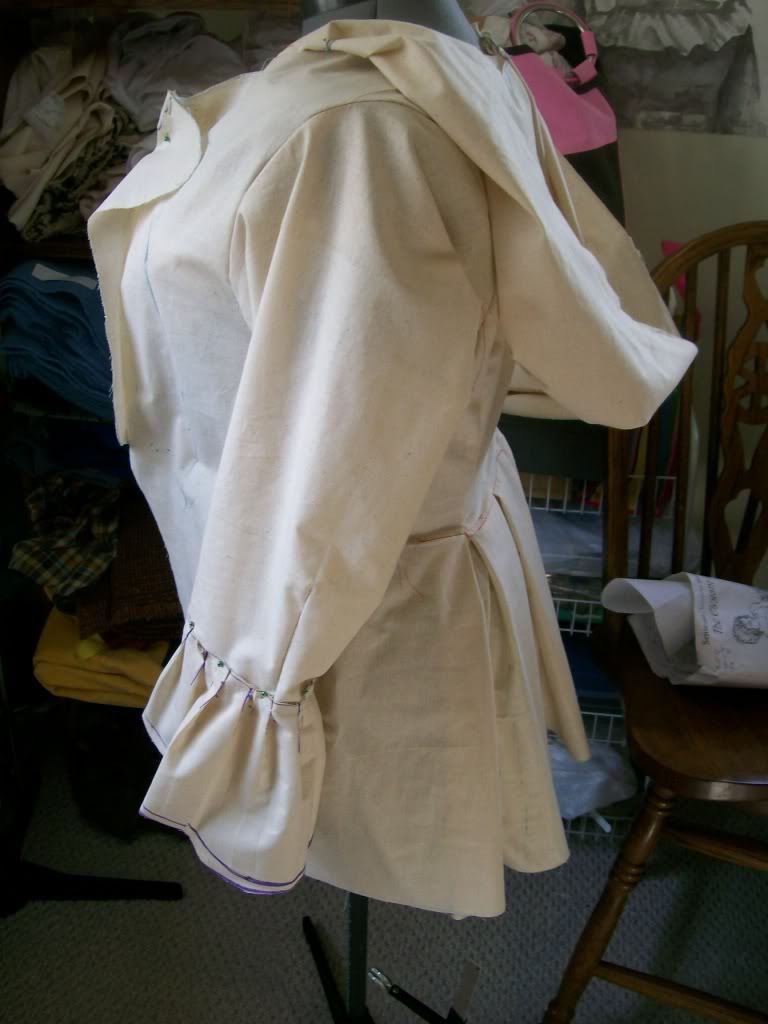 I've already cut out all of the fashion fabric, and the lining. The fashion fabric, which is the blue-gray wool from the pelisse, will have trapunto worked into it, then it will be backed with a thin layer of cotton batting and quilted in a diamond pattern. After that, I will construct the seams similar to
the seam construction here
, lining the jacket with scraps of silk from the "Marianne" Pelisse. Most of the trapunto is finished and I am now moving on to the quilting stage of the jacket. It is taking longer than I thought, now that I'm back at work. But, I'm doing a little bit here and there, and hopefully I will be able to finish the jacket before October and cooler weather comes around.