Stash Project: Wrap-Front Blouse
With only 3 days left until I go back to work, my blog might be slowing down a bit. The same goes for my sewing projects. Oh, don't worry...I still have enough stash fabric left to keep me going for a while, but my sewing times will mostly be limited to the weekends. I also realize that it has been a while since I've sewn anything Regency. I think I got burned out after all of the sewing I did for the Jane Austen Festival, and then I decided to get my Fall, teaching wardrobe ready...so...late 18th or early 19th century costuming took a back seat. But, I do have something in the works (actually in the planning stages), and I will post on that as soon as I have something to show for it. I'll just say this about it... it's mid to late 18th century and it's outer wear.
Now, for my final summer stash project.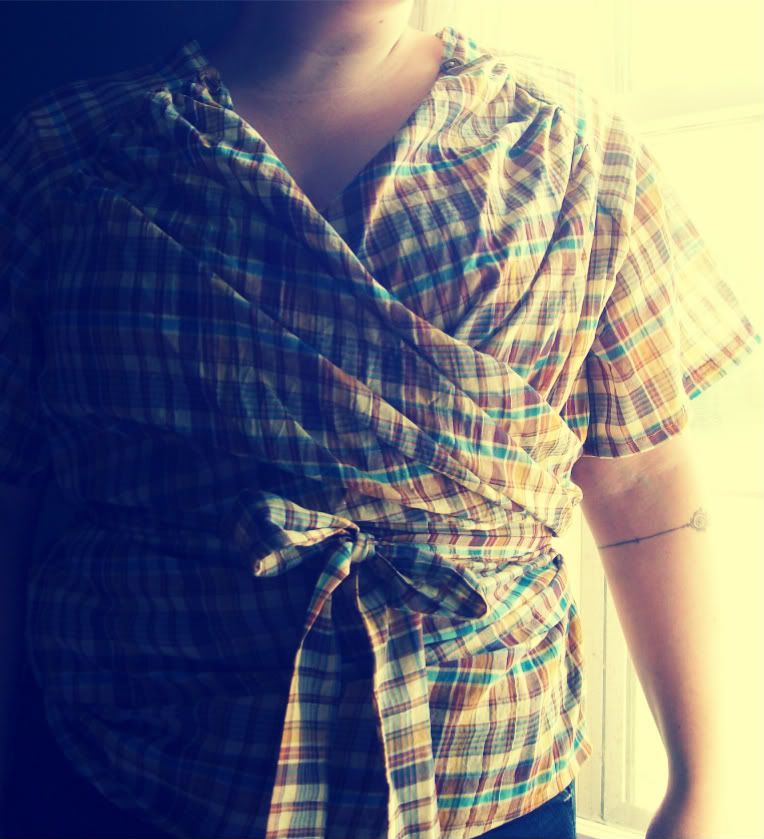 A part of me feels very 'cowgirl country' in this blouse....which, if you know me at all, is almost exactly opposite from my personality. Since I live in Kentucky, I'm a bit sheepish about wearing this blouse out and about...I wouldn't want to give the wrong impression of who I am, now would I. What do you think? Too country? Or does the design of the blouse take away from the 'country-ness' of the plaid?
There are two ways I can wear this blouse. I can simply wrap it across my front and tie it, wearing it with a deep, lose v-neck.
Or....I can button it up at the top, closing the neckline. Either way, I think it still has a very 30's feel to it. (Except for the lil' bit a country, right y'all?) I think I prefer the buttoned look.