Sweater Revamp
Ok, ok...I know it's like 100 degrees outside, and no one in their right mind would even want to think about wearing a sweater right now. But... my thought is this... every year, when Fall comes around, I'm left wishing I had had the forethought to spruce up my cold-weather wardrobe. But, by the time I get around to wishing this, school has started, my schedule is insane, and there isn't any end in site to the busy-ness of my life until some time after New Years. Is that how your life is?
So, this year, I decided I would try to plan ahead a bit. I went through my closet and dresser. Things that didn't fit, or that I hadn't worn in more than a year, I put aside. ( I might use these items later for various reworked projects, or I might just give them away to charity.) After that, I made a list of "gaps" in my wardrobe. What was I lacking for the cold weather months? Are there any items that don't have a mate (meaning they don't match anything else.) Surprisingly, almost everything I own has a mate. What I am lacking is a couple of nice blouses, a couple of A-line or pencil skirts, and a good pair of slacks...all staples, really. I'm using fabric from my stash to take care of the blouses and skirts...and I don't think I'm ready to tackle making slacks yet (maybe some day), so it looks like I'll be buying those. The only other items that I am sorely missing from my closet are sweaters. I have ONE good sweater. That's it. So, rather than pay a gazillion bucks for a high end sweater that I most likely will get paint, or pastel, or charcoal on (I'm an art teacher), I went to Good Will.
Admittedly, I am a horrible thrift store shopper. I have expensive tastes (without the expensive budget) and I kind of get grossed out by touching other people's used clothing. I know, it's a hang-up. I'm working on it. (And I'm also very inspired by so many of you lovely bloggers out there that are the queens of thrift store shopping!) So, I'm very proud of myself for doing what I did today (did I say I went to Good Will?) I went looking for used sweaters. And found some. Your first reaction to these sweaters might be eeww...gross...how ugly...or something along those lines. But trust me...I bought them over-sized for a reason. I'm revamping them!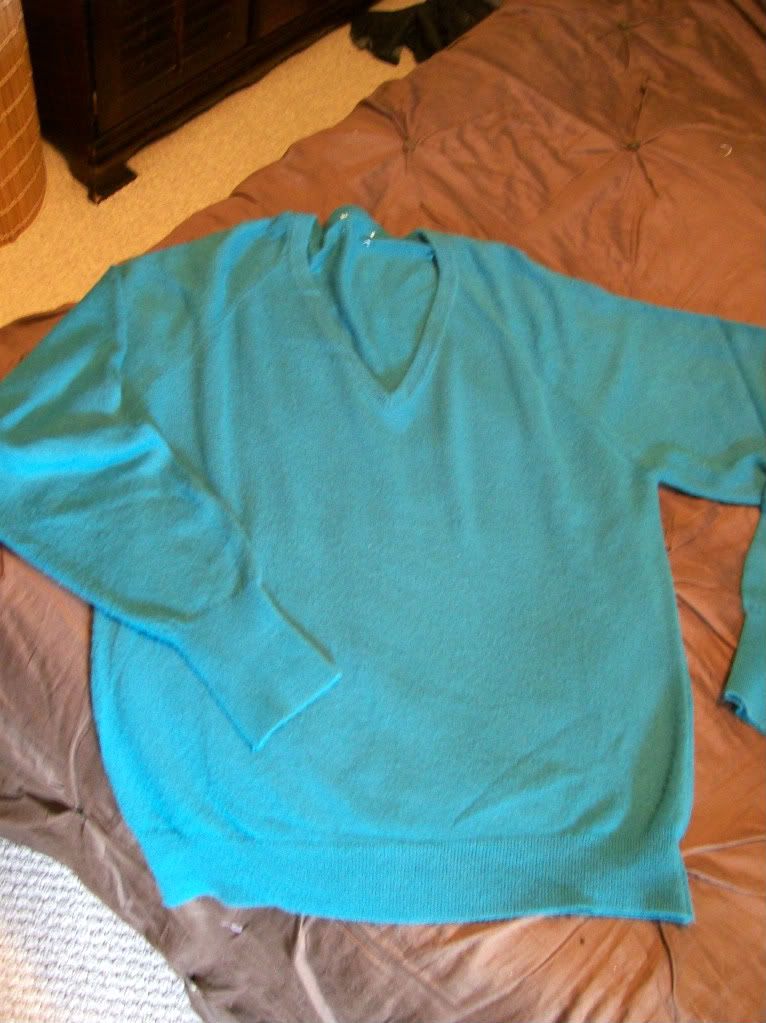 Sweater A: Before Image.
Cons: Too long and too wide.
Pros: Great color and it's soft.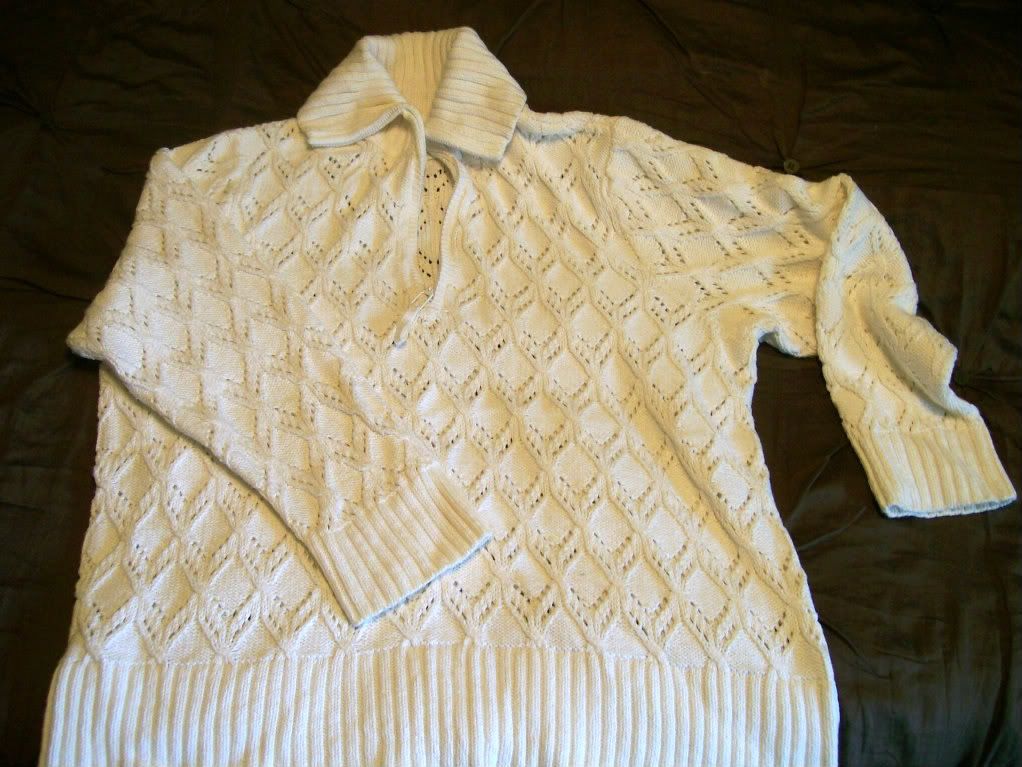 Sweater B: Before Image.
Cons: Too wide through torso and arms, and sporting a hideous 90's zip-up turtleneck.
Pros: I love the lacy diamond pattern and chunky cotton texture of this one, making me think of 30's sweaters.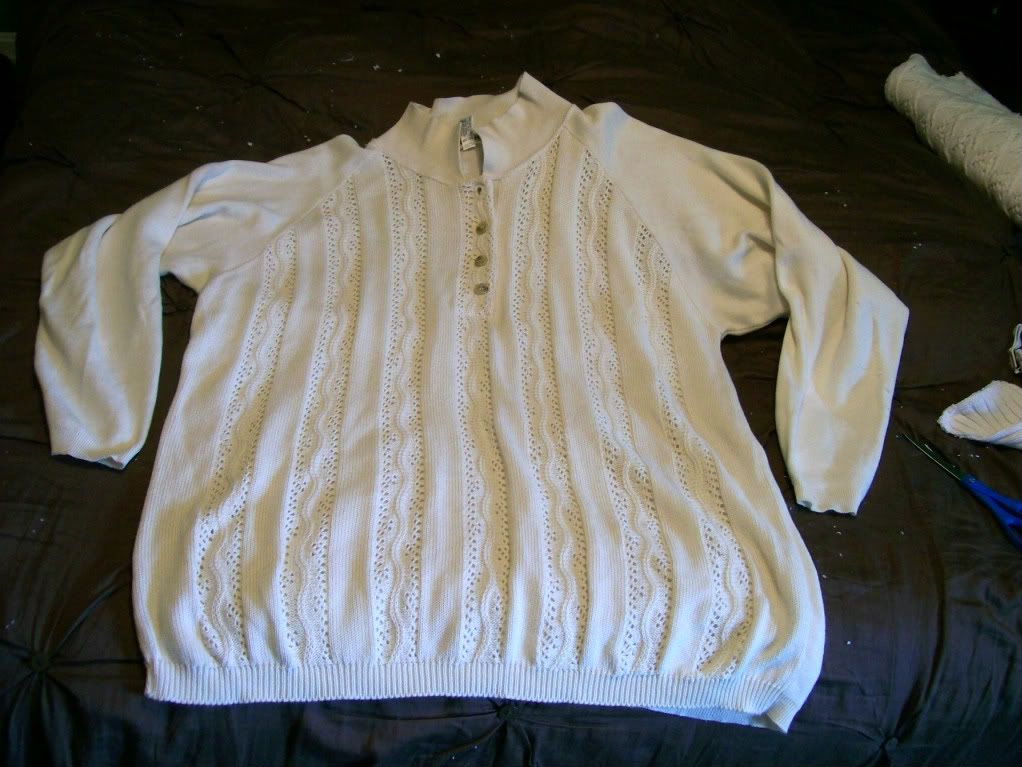 Sweater C: Before Image.
Cons: GINORMOUS! And it has an ugly collar.
Pros: There's a lot to work with. And it's a loose weave, creating a flow-y and lacy texture.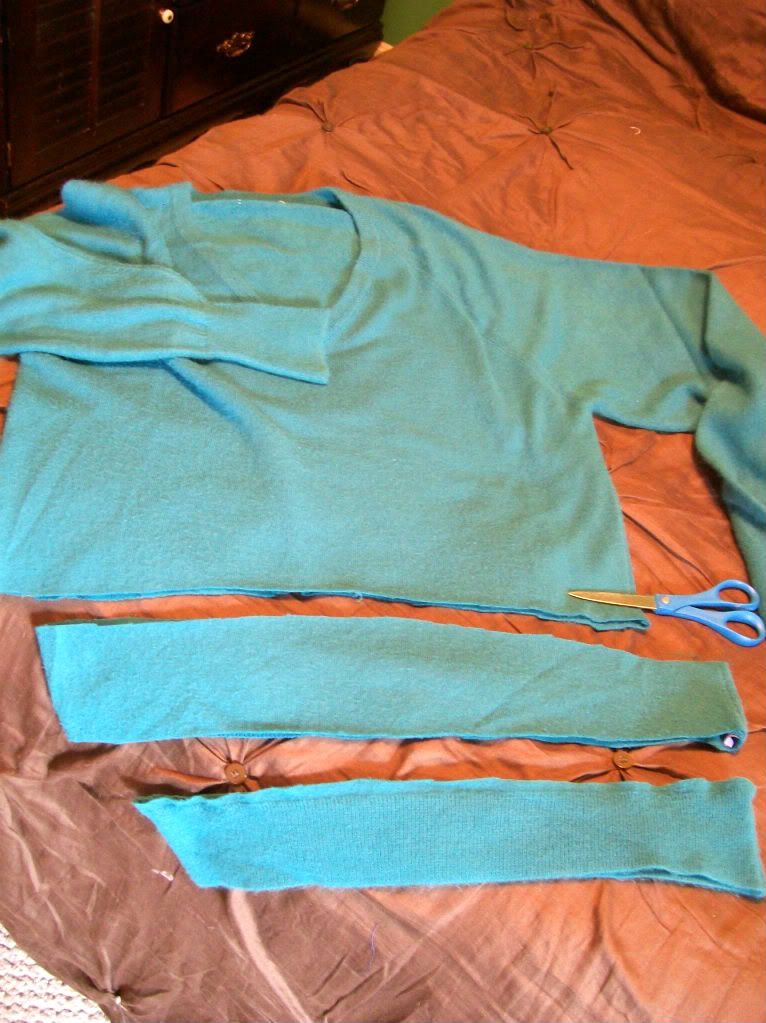 Sweater A: I cut off part of the sides to fit my width (forgot to show this in the picture), hacked off the extra fabric at the bottom, and re-attached the ribbed waistband. After I sewed the sides back up, I used the left over fabric to create a feminine and floral applique around the collar.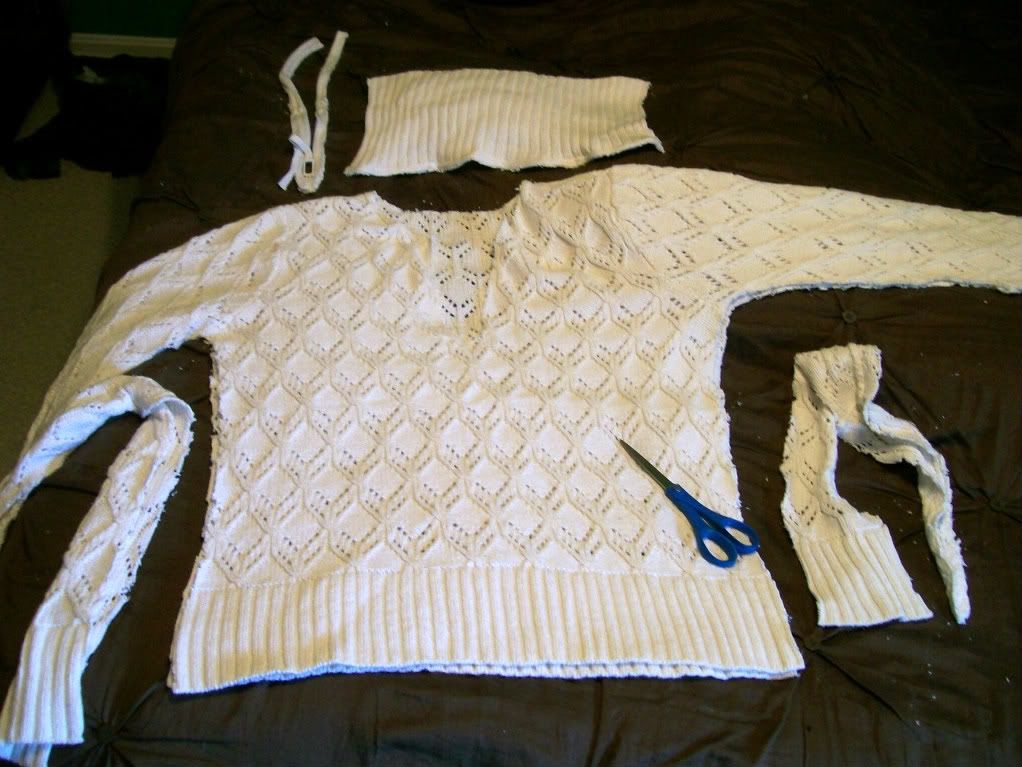 Sweater B: I cut off the extra width through the torso and and arms, and removed the zipper and turtleneck. I stitched the sides and arms back up, used the extra fabric from the sides to create a fun, 30's style collar, and added a loop and button to keep the v-neck shape closed.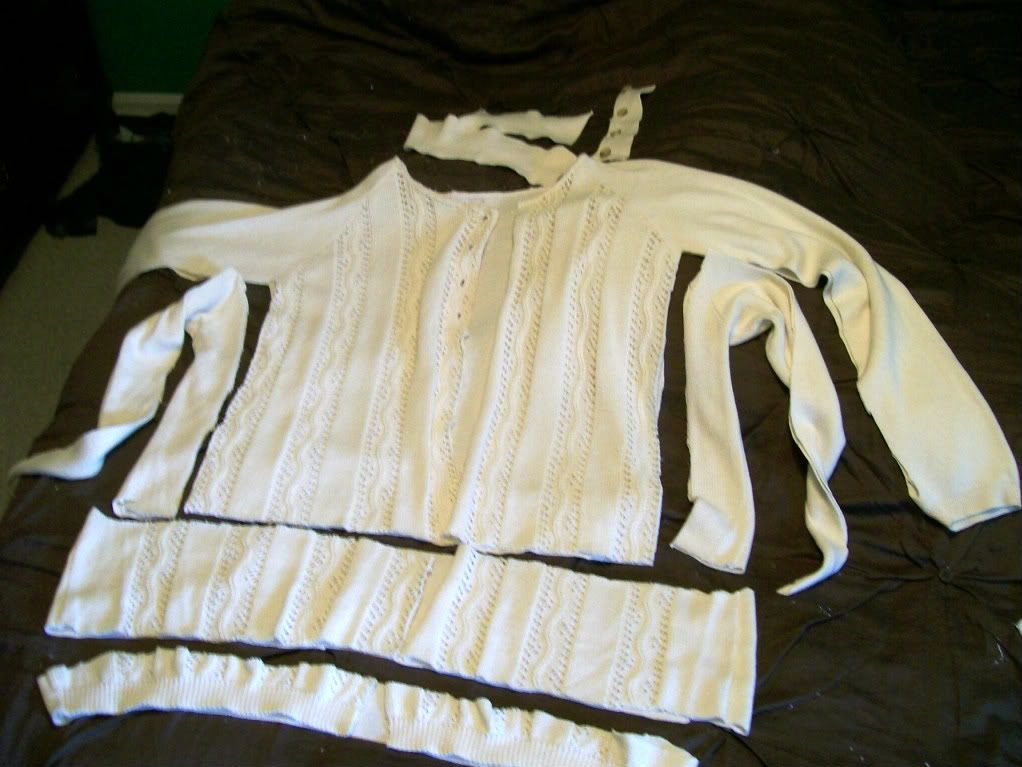 Sweater C: Major reconstructive surgery here... Because of the ephemeral texture of this sweater, I really wanted something floaty and feminine to come out of it. It ended up being more of a decorative cardi than anything. I really hacked away at the length and width through the torso and arms, removed the ugly collar, and cut vertically up the center front. I re-attached the ribbed waistband, sewed the side/arm seams back up, and used the left over fabric to create a sort of scarf-collar combo.
I will let you be the judge of the results.
Sweater A: After Image.
It certainly isn't my favorite of the three, but it is functional now, and not terribly bad looking.
Sweater B: After Image.
This one is probably my favorite because it has a sort of vintage feel to it, which was my intent.
Sweater C: After Image.
Floaty and Romantic...perfect.

More sweater alterations might be in my future...it was fun. Maybe all this thrift store stuff isn't half bad after all. However, I do NOT think I will be doing another sweater photo shoot in 100 degree weather...THAT was not fun.
If you've done any sort of revamping, or altering of non-wearable clothing, I would love to know about it. Please leave a comment and link to anything you've done. Let's share!