Accessorizing: Hat or bandeau; feathers, ribbons or scarf
Since my late 1790's
gown
is nearly finished (I only have the sleeves and hem to do), I've lately been dreaming about accessorizing. The only problem is, I mostly have to work with what I've got because I'm currently on a shoe string budget. I did manage to scrounge up
recently
some gorgeous ribbon, and antique clasps at a local vintage antique store. That will be my only purchase for this outfit this year (remember the fabric was bought last
year
) ....so I will have to make do. I'm not too worried, because the gown itself is the show piece. A little splash of color here or there will make it pop.
I bought this shawl at last year's Jane Austen
Festival.
It's gorgeous, and I plan on using it again this year. The good news, other than that it's gorgeous and I love it, is that it matches the color of the ribbons I purchased (without even thinking about it). It doesn't surprise me that they match, because I'm almost always drawn toward jeweled, or peacock toned clothing and accessories....teal, jade green, peacock blue...love 'em.
The other item I have to work with is my late 1790's capote bonnet that I made last
year.
I will wear the bonnet during the day of the festival, but will probably come up with some sort of bandeau or ribbon to wrap around my hair (and maybe a feather or two?) for the ball. I don't want the capote to look exactly like it did then, so I will remove all of the brown ribbon that I hastily put on, and have a clean slate to work with. I've been browsing several fashion plates to get some inspiration for the trimmings.
Here's one (sorry it's not very clear...click to see a close-up view), second from the left. It's decorated with a simple wide ribbon and a sprig of flowers is attached to the top, right side.
I like the first one on the top, left in this plate. The simplicity of the white ribbon wrapped several times around and tied at the back, bottom edge really intrigues me.
While I don't like the enormous bouquet of flowers perched at the edge of the bonnet, I DO love the wide spread of fabric, draped almost scarf-like around the hat. I might be able to use a bit of my lawn fabric that's left over to achieve this look.
Finally, this one, I've been contemplating using a scarf to hold the hat onto my head, and this one (top left) would be the manner in which I would do it.
Here are my cast of characters (minus the bit of lawn I could use as a scarf-like material). I could use any, all, or none of these items for my hat and bandeau. The fun will be in deciding how to put it all together.
The silk scarf above is one that my sister-in-law brought back from India and gave to me a few years ago. I was thinking of using it as the bandeau for the ball, along with these feathers. It's long and rectangular, so I don't think it would work as a scarf for the hat.
And finally, if I use ribbons on my hat, I will probably use the wide ones above. I think I will save the thin, silk ones (bought from
Burnley-and-Trowbridge
) to use as a belt around my gown.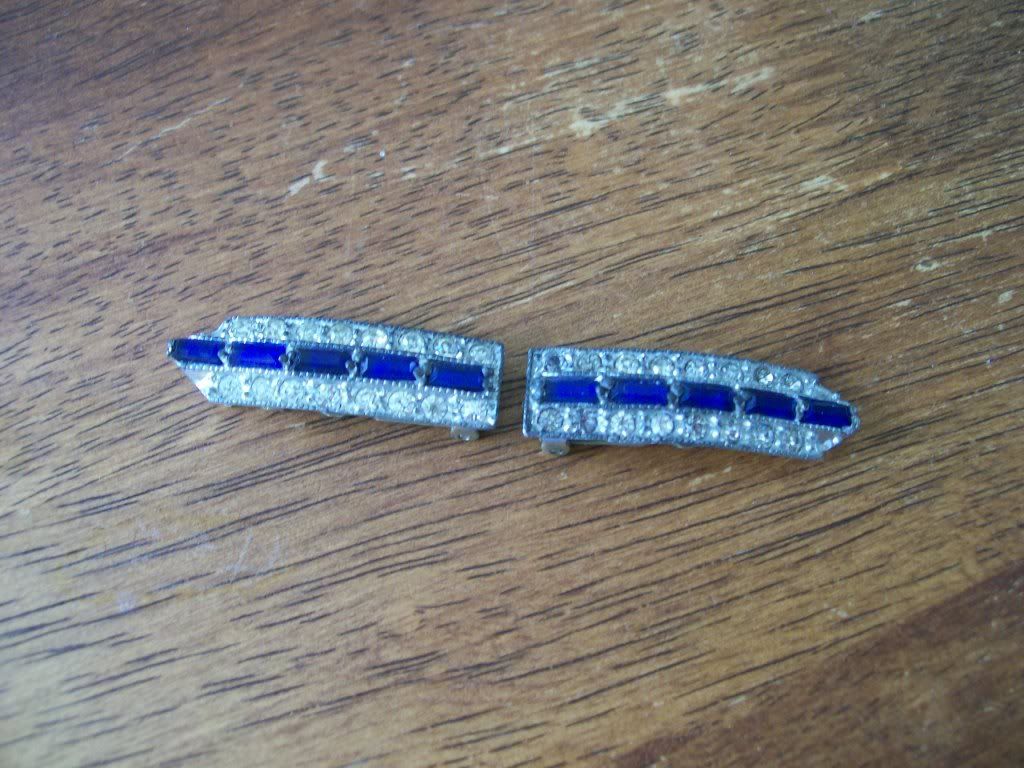 I'm a little bit afraid that the vintage buckles I bought to use as a faux belt buckle might be too heavy to use on the silk ribbons, but surely I can rig up something and make it work, right!
I'm looking forward to playing around with my accessories, and of course, I'll be sure to share the results with all of you!