1884 Gown: Bustled Petticoat
...or otherwise titled "I like big butts, and I cannot lie." Sorry...but I've had that song in my head the entire time I've been working on this thing. Seriously though, I'm loving the bustled look, and this is only the petticoat! I can't wait to see what the skirts are going to look like...I'm a little giddy about this!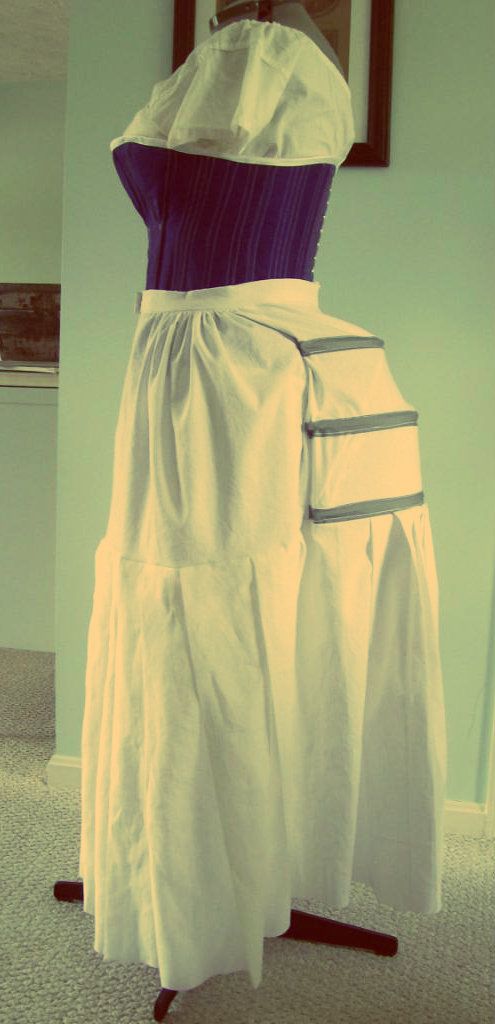 Once again, I used a
Truly Victorian Pattern
. It's a later bustle period petticoat, with an optional ruffled overlay (which I chose not to use.)
The only bias tape I had was grey. But, since no one will see this part of the petticoat under the skirt, then it doesn't really matter does it. The fabric is linen...cotton would have probably been more period correct, but linen is what I had on hand.
I chose to pleat the bottom half, because that is what I'm planning on doing to the underskirt, and I wanted a similar structure to support the underskirt. I gathered the upper portion of the petticoat into the waistband, but I kept the gathers toward the sides, or the hip area, because I wanted the front to be as flat as possible...reducing the bulk.
All of the TRUE undergarments are now finished. Next up: The silk, striped, underskirt!