Historical Food Fortnightly: Challenge #3: This Day in History
For this
Historical Food Fortnightly
event, I chose July 4th as my day in History...BUT...I didn't choose THE July 4th of 1776, aka - Independence Day here in the States. That would be too easy. Instead, I chose July 4th, 1862. This is the day that
Charles Dodgson
first tells the story of Alice's adventures down a rabbit hole, while picnicking along the Thames in England.
I'm not a huge Alice in Wonderland fan, but I wanted to give an ironic nod to the "losing" side or our war for independence. I do so love the Brits.
So, picnic food and tea party food came to mind because of this day in history. Besides watermelon and strawberries-and-cream hand pies (both very traditional American Summer foods,) I made two types of historic sandwiches, Cheese Fingers (my nod to Alice's tea party) and Egg Sandwiches (my picnic sandwich choice.)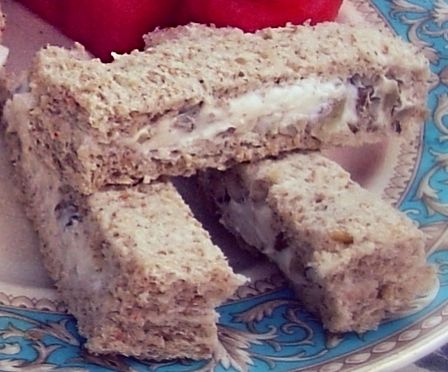 (source: Fifty-Two Sunday Dinners, 1913)
Ingredients
~~~~~~~~~~~~~~~
Instructions
Mix the Cream Cheese with an equal quantity of finely chopped English walnut meats; season with salt, black pepper and a few grains cayenne. Moisten with Cream Salad Dressing. Spread between thin slices of white bread and cut in strips the width of fingers.
(source: The White House Cookbook, 1887)
Instructions
Hard boil some very fresh eggs and when cold cut them into moderately thin slices and lay them between some bread and butter cut as thin as possible; season them with pepper, salt and nutmeg. For picnic parties, or when one is traveling, these sandwiches are far preferable to hard-boiled eggs au naturel.
The Challenge:
This Day in History, July 4th 1862,
Charles Dodgson
first tells the story of Alice's adventures down a rabbit hole, while picnicking along the Thames in England.
The Date/Year and Region:
Recipes date from America: Cheese Fingers - 1913, and Egg Sandwhich - 1887.
How Did You Make It:
(a brief synopsis of the process of creation)
Time to Complete:
Quick nummies...maybe about 15 minutes tops.
Total Cost:
I think I'll leave this out from now on...I can never remember prices.
How Successful Was It?:
Neither recipe is fancy, so don't expect mouthfuls of praise coming your way.
The egg sandwich was pretty plain. Don't skip the buttered bread step, because that's really the only thing that gives it any flavor. But, I wouldn't count this out for a picnic sandwich. It was extremely convenient, and a nice jolt of protein.
The cheese fingers were good. I expected them to have a certain taste...I mean, we've all had cream cheese based sandwiches before, haven't we? ...cream cheese and nuts, cream cheese and olives, cream cheese and cucumbers, etc... But the
Cream Salad Dressing
really made it taste completely different from what I'm used to. The salad dressing, I assumed, would taste like mayonnaise. It is a basic mayonnaise recipe after all. But the mustard gives it a bite, and "wow-is-that-vinegar-strong" is the first and last thing your mouth thinks. By itself, it's almost too much to handle, but mixed into the cream cheese (don't over-do it) it's not bad. Granted, I like vinegar and mustard based foods, so it didn't bother me.
How Accurate Is It?:
I would say this is pretty accurate. The only deviation from the original recipe was my choice of bread, and I don't like nutmeg on/in savory food, so I left that off of the egg sandwich.
All in all - it wasn't a bad trip down the rabbit hole.