Habit Shirt - Finished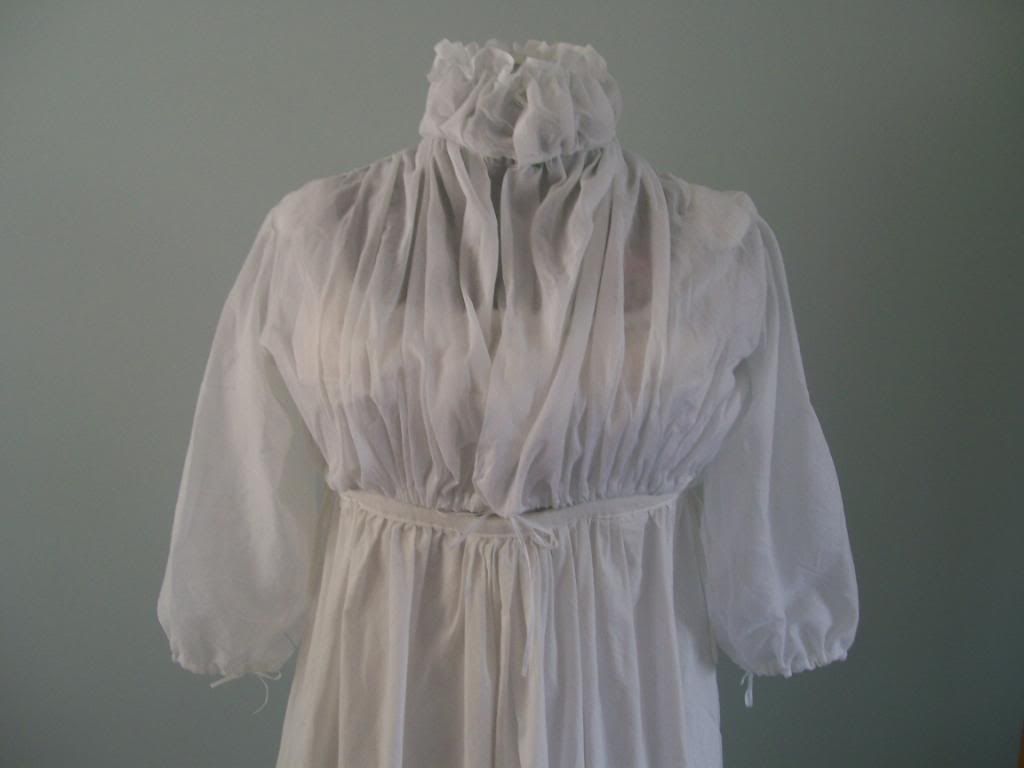 (front)
This year's
Jane Austen Festival
is fast approaching (less than two weeks), and I am desperately trying to get my new ensemble finished before the festivities. Thankfully, I can finally say my
Habit Shirt
is finished.
Remember the 1801 Habit Shirt above that was my source of inspiration? I don't think I was too far off the mark. The sleeves could have been a bit fuller, and more gathered, but I'm not crying over it. There are drawstrings at the neck, the waist, and at the end of each sleeve. This was my solution to gathering the fabric in these places. It's only a guess, and I really haven't a clue how it was done in the fashion plate.
(side)
The fabric is a cotton voile from
Dharma Trading Co.
Of course, I hand stitched the shirt, and I did so while watching the entire first season of
Grimm
. I'm not normally a 'cop show' kind of gal, but throw in Portland, Oregon, and Fairy Tale creatures, and I'm hooked.
(back)
I found that my hand stitching was really terrible when I first started this project. I am sorely out of practice. It has been such a long time since I've sewn anything by hand, that I'm not really surprised...but it is sad, none-the less that I lost the art so quickly. I was decidedly better at it by the end.
And now for a sneak peek at my sleeveless, "habit" gown (not sure that's the correct term for this, but that's what I'm calling it.) My original gown idea has morphed quite a bit. I was previously thinking about doing a gown similar to the one above from 1803. Then, I started looking more at a couple of gowns in Bradfield's "Costume in Detail." I'm still going to make my gown sleeveless, in order to showcase the shirt, but I've decided to make the bodice more like the one on page 88 of the book...the "1803-05" gown (still a similar date) from the
Snowshill Collection
. I will go into more detail at a later date, however, here is an 'in progress' shot for you to sink your teeth into.