Another Regency Era Fan
I haven't been able to do much sewing lately, what with all of the Holiday festivities and such. I just started on my sleeveless chemise, and then will be moving on to my sleeveless petticoat. Nothing too exciting, but when I'm finished with those, I will post pictures so that you can see the outcome.
High school musical season has started, and if I haven't mentioned this before, I'm the costume director. This year's musical is Seussical, which means that, thankfully, I won't have to do too much sewing, but I have been scouring thrift stores around town for wacky and colorful ensembles. We aren't taking a literal approach, so rather than big furry Sneetch suits, etc, we are going with things like, yellow, vintage inspired Whos and the jungle animals will be more "urban jungle" than anything. Big hair is unavoidable though. Expect pictures in a couple of months.
One thing I don't think I've mentioned yet is that I've been asked by
JASNA Louisville
to teach a fan painting workshop at next summer's Jane Austen Festival. I'm thrilled about this, and have been researching fans. If you have tons of extra time to waste, browse
The British Museum's web site
for late 18th century, early 19th century fans. You won't be disappointed.
A little over a year ago, I painted
THIS FAN.
I plan on using it as an example during the workshop, but was asked to create one that is more simply done up, in case someone might not feel up to such a challenge.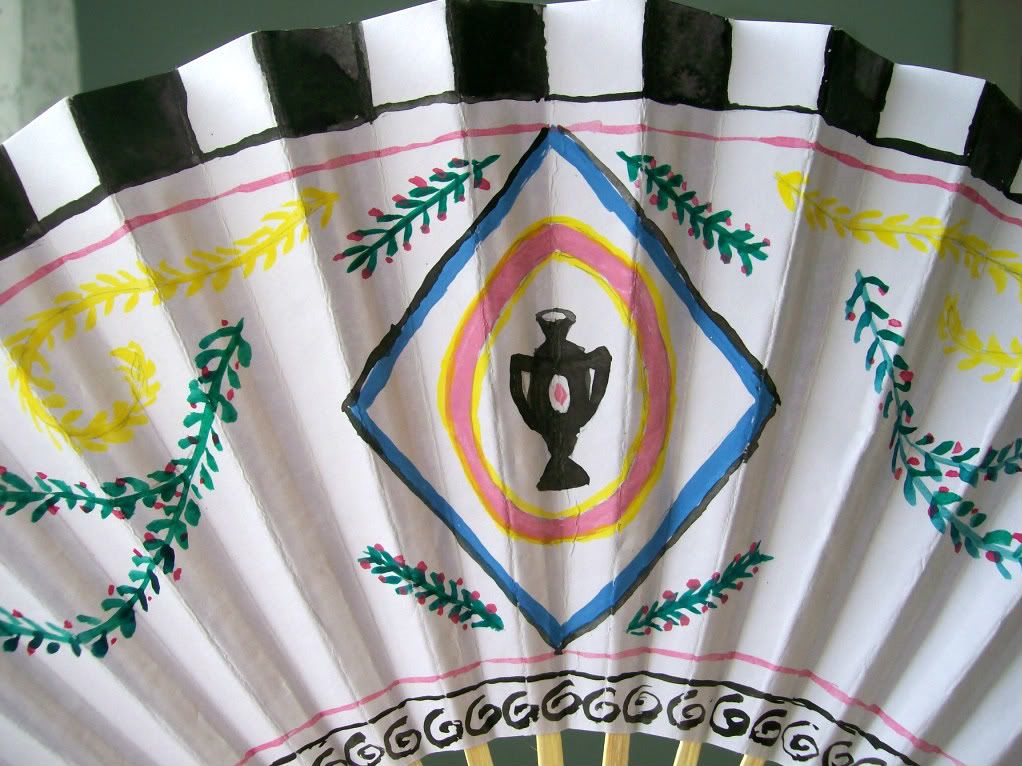 So, today I sat down and using examples from The British Museum I came up with this. Fun, colorful, simply done, but still very Regency-esq. I hope it isn't intimidating. What do you think? Could a novice make a fan like this, or is it still too complicated? It seemed easy to me.