My Next Project: Decisions...Decisions
I'm brainstorming now...trying to decide what my next Regency era project will be. I've decided to start with a new shift. It will probably be a sleeveless one, because my current shift, when worn under my white gown, looks like I'm wearing a t-shirt underneath. I'm also planning on making a new petticoat. Both of these should be easy, quick and cheap projects.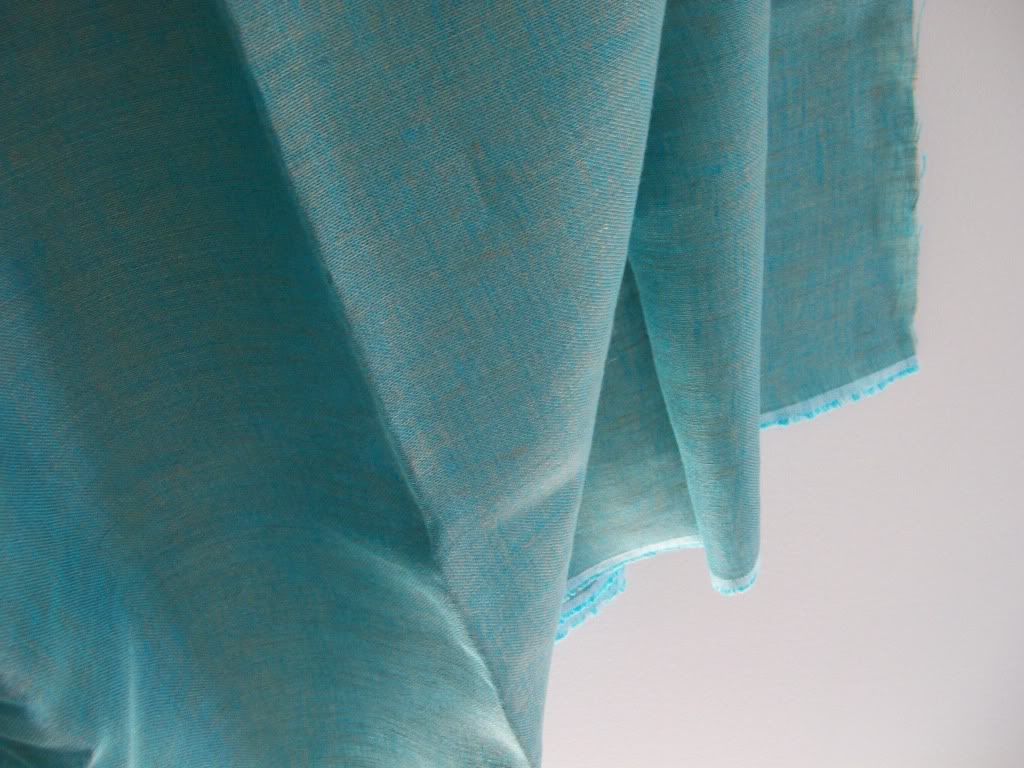 The hard part is trying to decide what I want to do with my new, blue, sheer, cotton/linen blend fabric that I bought at the 18th c. market fair a couple of weeks ago. I have 5 yards. Here are my ideas. Will you help me decide?
1796
I saw this plate, and while I'm sure the gown is probably made of some sort of silk or fine lawn/voile, the color is nearly spot on. 1796 is about as early as I would go for a new Regency era gown. Actually, I'm not even sure it qualifies as Regency...does it? Maybe Georgian? My knowledge of British Royal history is foggy right now. I'm on medicine for allergies...that's my excuse. Anyhow...I love the open robe feel, the v-neck, how it closes in the front(easy on/off), and the lace/embroidered trim is gorgeous. With the 3/4 length sleeves, my 5 yards would be stretched...but it can be done. This is the only gown in this list of ideas to have longer sleeves. I'm dreading the summer heat of next year already, and we aren't even through with Autumn yet.
1796
Another early one...also the perfect color, but no sleeves. I would wear this one over my white Tiden's Toj gown...which means another layer, even without sleeves. There are not a lot of details on this fashion plate, and I'm left to wonder where the seems are, how it's gathered and closed in the front, etc. But, it's pretty, none the less...so it's on my list.
1799
I don't really like the colors of the trim on this one, but I do like the idea of the trim. I can't really tell what's going on with the front of the dress, and have the feeling that it's quite boring. But, it's the right color, and has cute short sleeves.
1800
A later look that really caught my eye, especially because it's one of those rare moments when we get to see the back of a dress. It's not the right color, but my fabric would look equally as good, I think. I like that it's sleeveless. But, I'm thinking that I would have to make and wear a sleeved chemisette under it. I really like the look of the sleeves in this plate, and if the chemisette was made of a light and sheer material, it wouldn't be too hot.
1801
The last plate gave me a good idea for the back of a gown, and I kind of like the front on this one. Again, a sort of chemisette with sleeves would need to be made and worn underneath. The only question I have on this one... would my not so small bosom look right in a dress with such a narrow bodice? hhhmmm...
1803
Last, but certainly not least...this one is later, but I think it's rather elegant. I like how the sheer, white sleeves could possibly be attached to the blue gown. Also, the lace, or ruched detailing around the top of the bodice is so delicate and pretty. I kind of like the veil too.
Well, that's all I've got. Please chime in with suggestions, votes, vetos or ideas. I would love to hear your thoughts.