Snowshill Quilted Jacket: Construction, Completed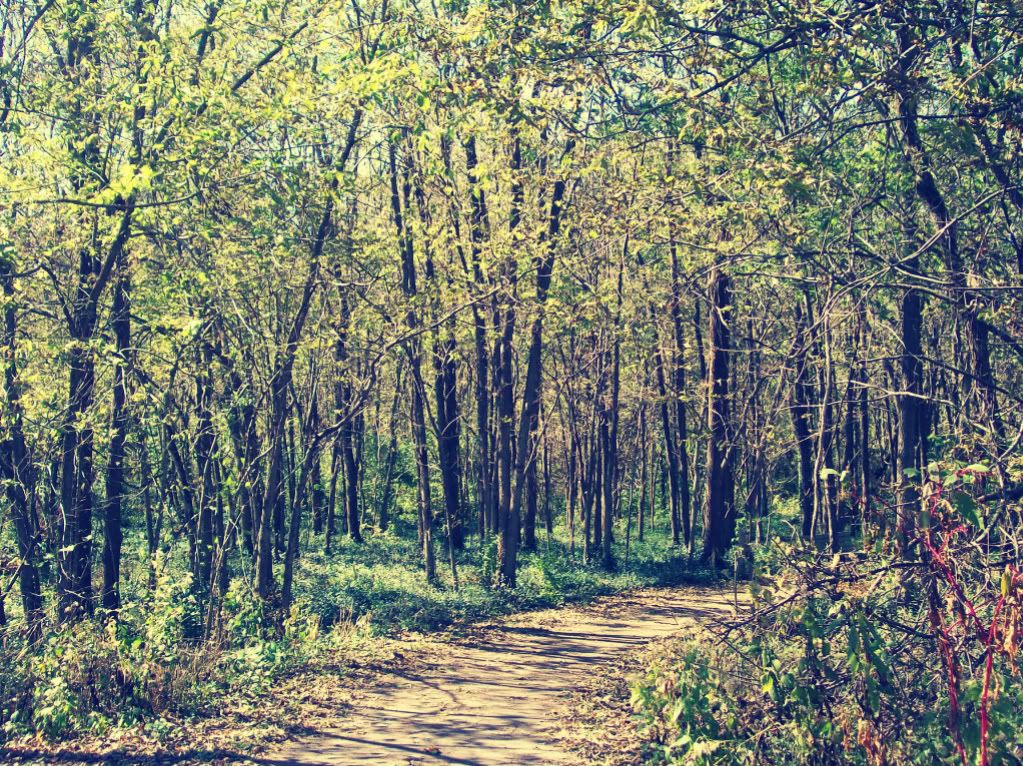 Happy October, my friends. I do hope you are enjoying weather as mild and crisp as we are. It's fabulous. The trees have been turning colors for the past two to three weeks. I love this time of year.
Well...it's finally done...my interpretation of the Snowshill Jacket, that is. Last weekend I ventured out into this beautiful Autumn weather to a local historic landmark called
McConnell Springs
, wondering around the trails.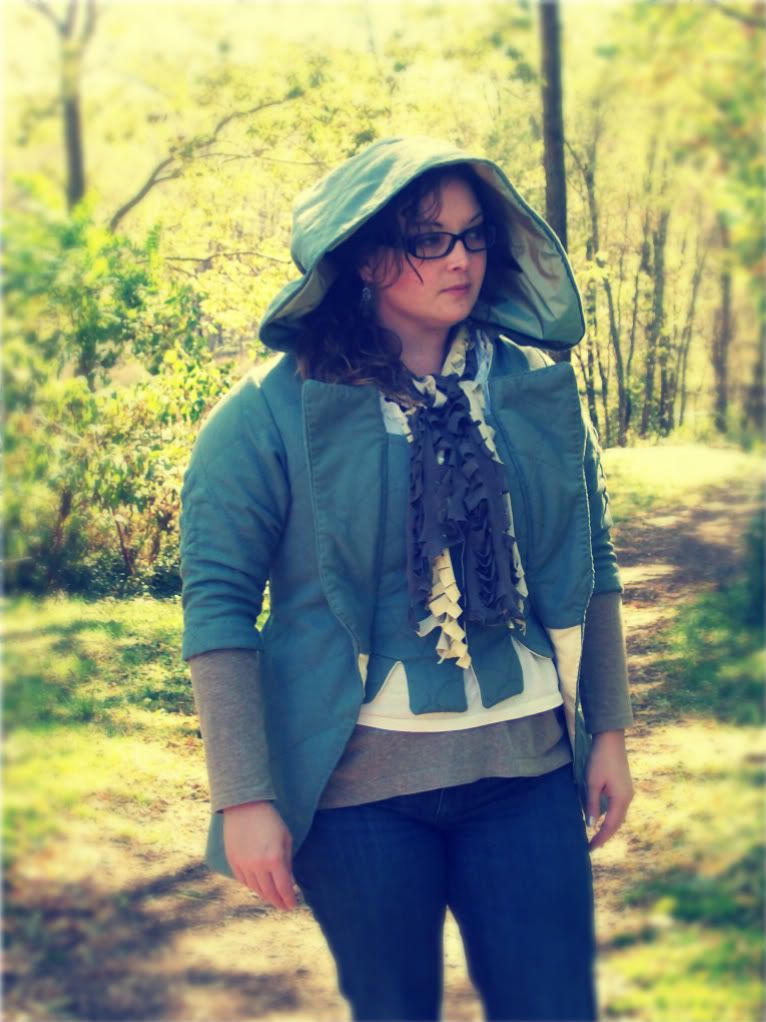 I thought the setting rather appropriate for taking photos of my new jacket, considering the Springs were discovered when our city was founded in the mid to late 18th century. The history of the Springs is rather fascinating, and you can read more about it on their
site
. I'm wearing my jacket, of course, with modern clothing...which was the goal.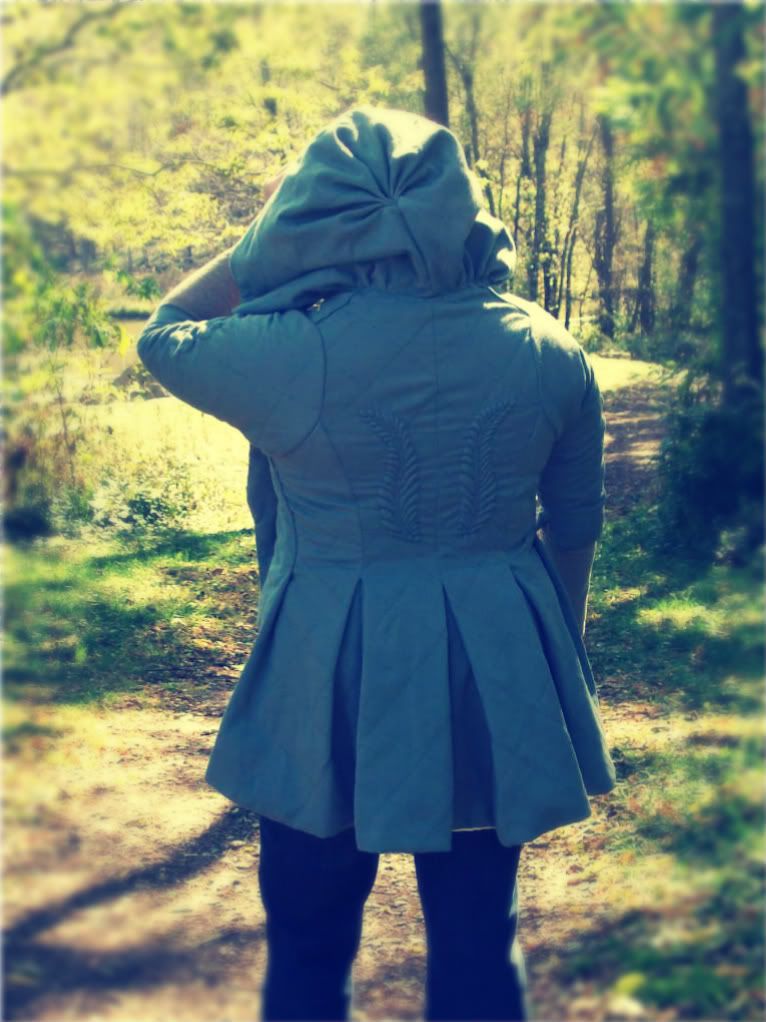 I'm extremely happy with how the jacket turned out. I will say, though, that it isn't the most ideal for wearing over modern clothing. The bottom of the false front hits at the natural waist, and unless I'm wearing a skirt/shirt combo, or a dress that does the same, it looks a little silly (like in the these pictures of me wearing jeans and a t-shirt.) Also, (and this is my stupidity coming into play here) I didn't take into account how thick modern, winter clothing is, and didn't put enough ease into the jacket. It is extremely snug and hard to get on and off over my clothing.
I've put in a series of pictures of the jacket on my manikin, so that you can get a clearer look at the details from every angle.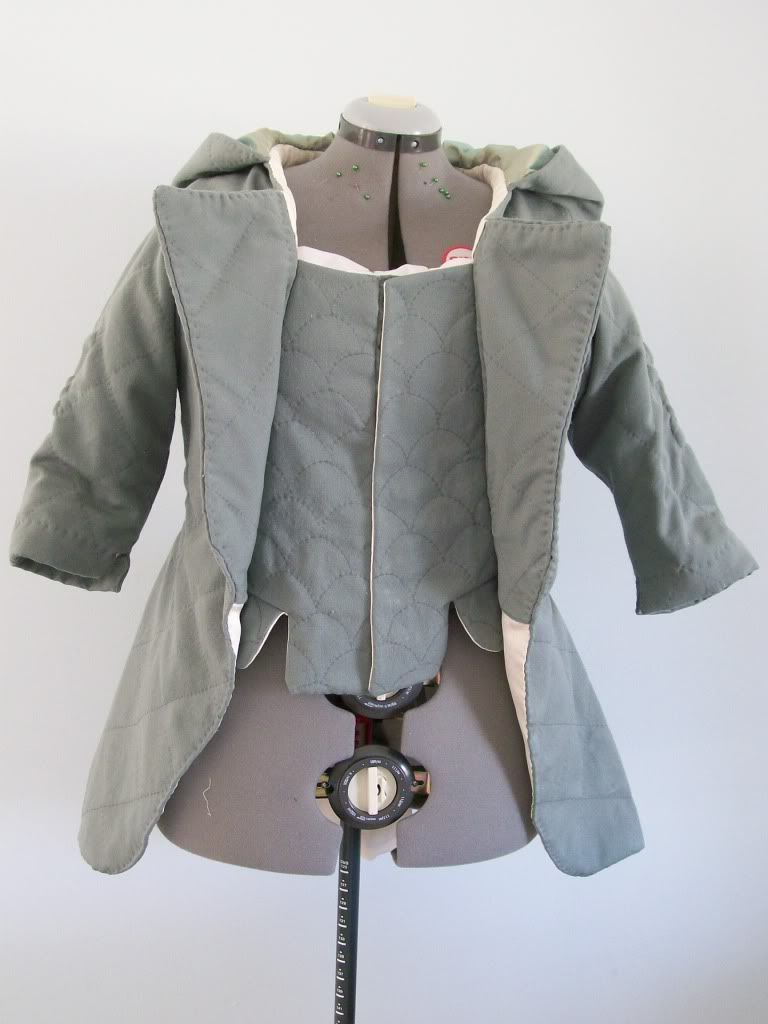 I didn't place any boning in the jacket, and the false front, instead of being pinned like it would have been, is held together with very large hook and eyes.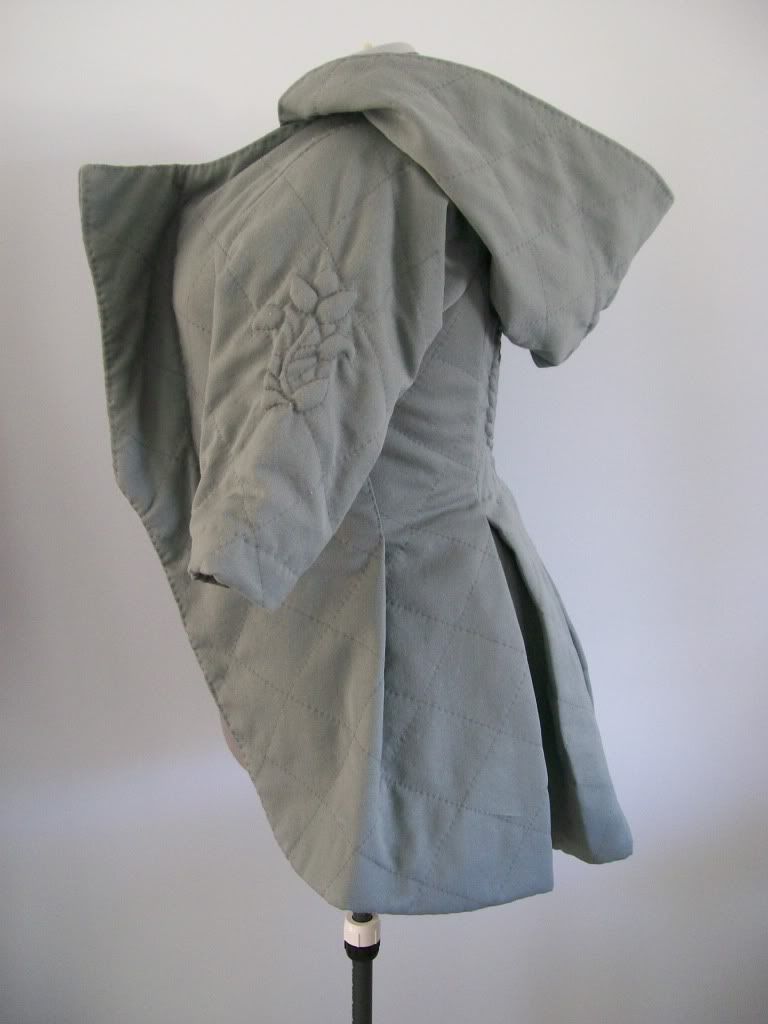 One issue I'm having (and feel free to chime in here if you know of any solutions) is with the lapels. They stick out, like you see above, and no amount of ironing can get them to lay flat. This bothers me more than a little.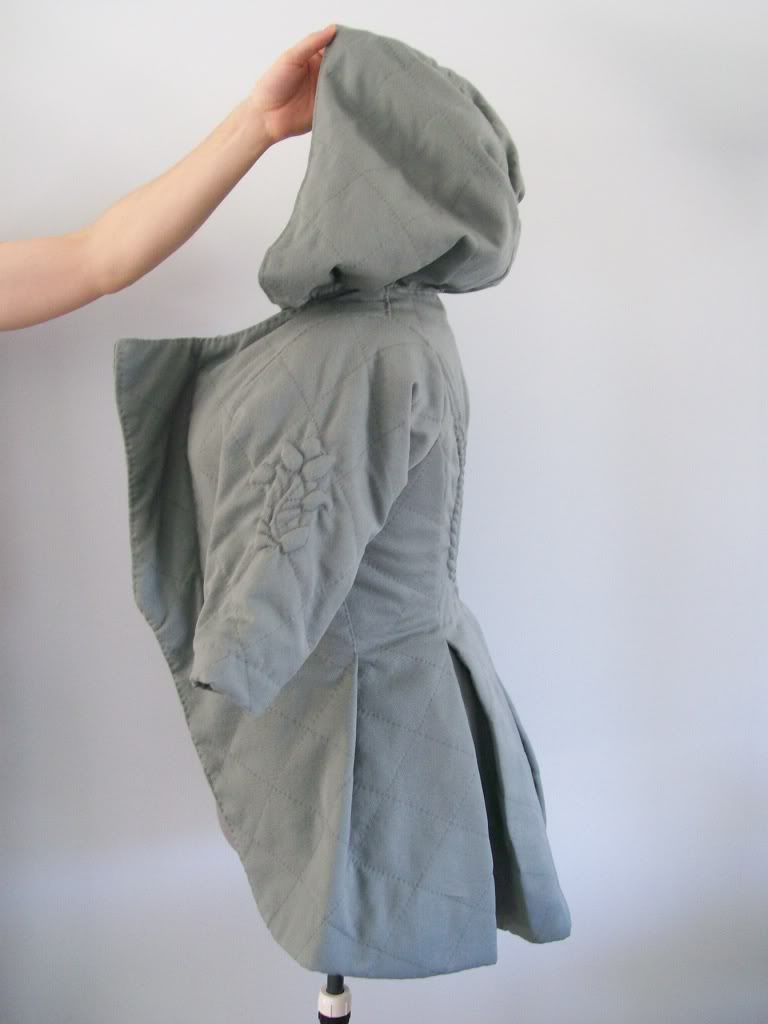 I didn't put any pleated ruffles on the cuffs of the sleeves. I love the way they look on the original Snowshill jacket, but in modern life, they look a little too theatrical for me. Besides, I was working with limited "recycled" wool, and didn't have enough for two cuffs.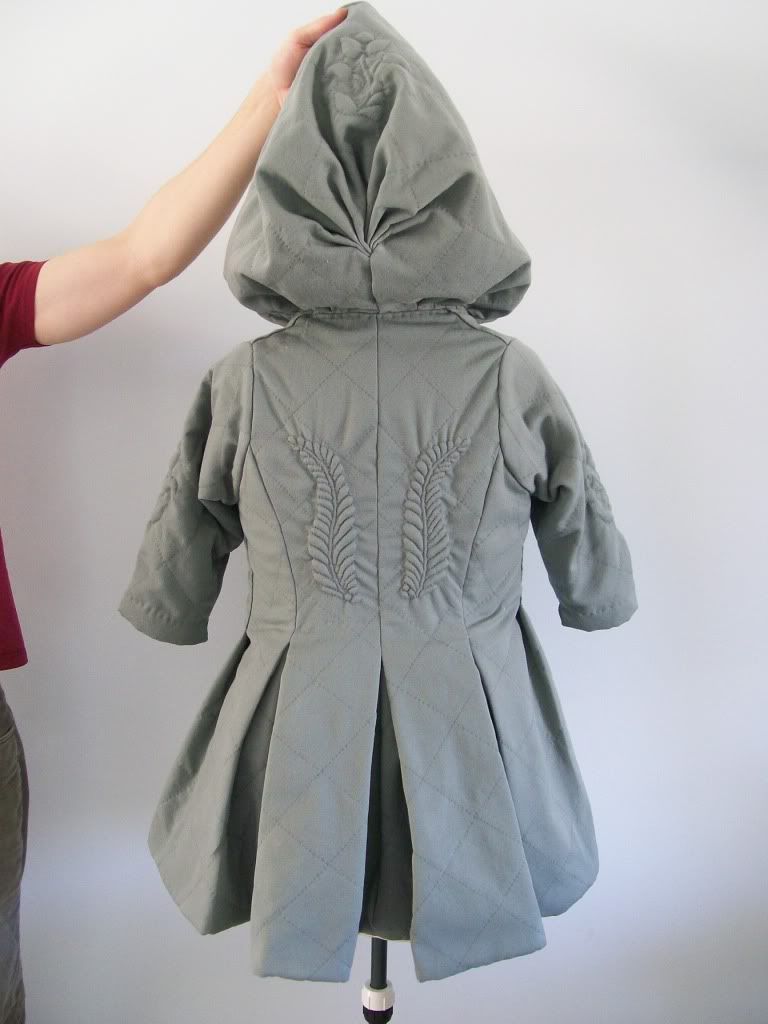 The back of the jacket is most definitely my favorite part of the whole thing. From the billowing hood, to the trapunto quilted feathers, to the deep pleats...it is all such a striking combination.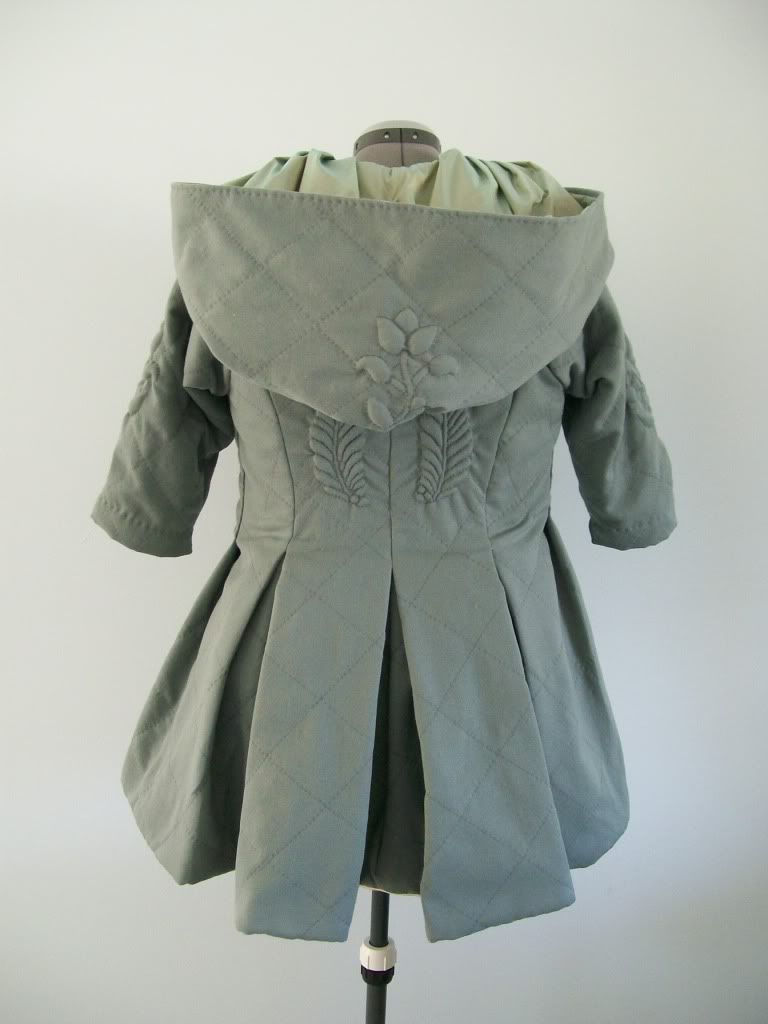 Well, it's been a long uphill battle with this jacket, but in the end I think it was worth it. I could probably hand quilt in my sleep now.
Now...any ideas for what could be next? I think I've lost my Muse, because I can't think of anything.