Historical Sew Fortnightly: Challenge #5: Peasants and Pioneers - Child's Doll
I think my Peasants and Pioneers project might be stretching the concept a bit. I wanted to create something that I (or in this case, my daughter Jane) would actually use. When I dress out in costume, I don't typically dress as a peasant or pioneer, so what I made is something that could pass for either upper class, or peasant. I made a child's doll. Dolls are made from scraps of fabric and bits of wool roving, and even the poorest of little girls might be able to scrounge up enough scraps to create a small poppet.
Jane absolutely adores her new poppet, and has named her Arabesque (pronounced "Arabesca," she says, and which I'm pretty certain was inspired by her resent love of ballet.) I might later make the doll a new, fancier gown.
In keeping with the theme, Jane's doll is simple...no fancy ball gown or feathered turban. But, the inspiration for Jane's new doll does have all of these things.
*original doll*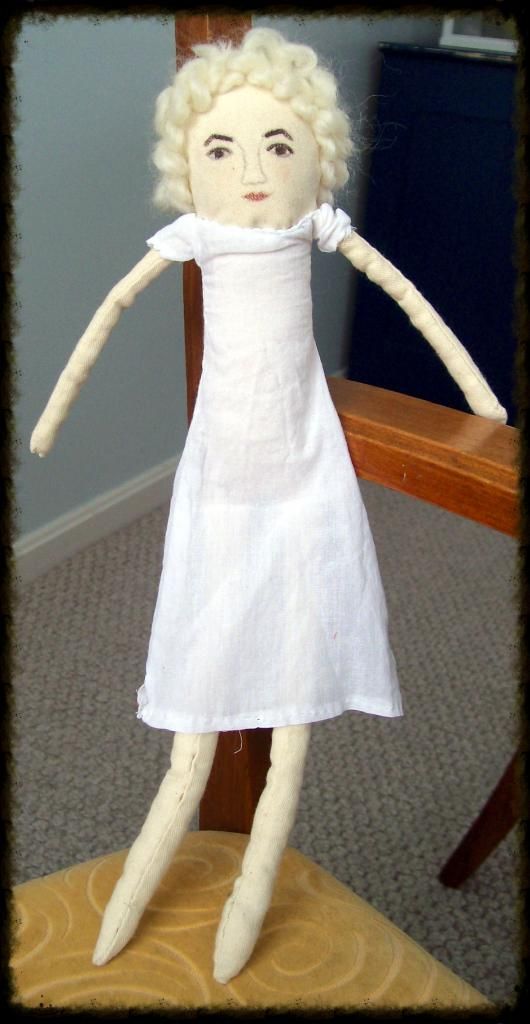 Jane's doll is about 2 1/2 inches wide by 14 inches long. Everything is hand stitched. I started by sewing together the individual pieces of the body, made of cotton duck. I stuffed each piece with wool roving yarn, then assembled the doll. The hair is also wool roving. I drew on the face with pencil first, then used actual make up to outline the eyes and put some color on her face. The first clothing item I made her was a cotton shift. A cotton cap came next with a tiny bit of ruching to decorate it. Then I made the simple, gathered, linen gown.
A very "peasant" type of gown...don't you think...even if it is only 12 inches long? Does it pass for the challenge?
Just the Facts
The Challenge: Peasants and Pioneers - Scrap Doll
Fabric: cotton, linen
Pattern: None
Year: Late 1790's to 1815ish
Notions: Thread, pencil, make-up, wool roving yarn
How historically accurate is it? I would assume it's very historically accurate...made with period techniques, style, fabric, etc.
Hours to complete: Maybe 8 to 10
First worn: First held about a week ago. :)
Total cost: Free, made of bits of scraps.