Historical Sew Fortnighly: Challenge #6: Early 1930's Summer Seersucker Sun Dress
The
Dreamstress hosts the Historical Sew Fortnightly
event,
Challenge #6: Stripes
. My entry...a VERY early 1930's (transitional from the 20's) seersucker sun dress. Originally, I was going to make a Regency era night gown, or dressing gown. But, then life happened, and I decided instead to go with something practical for the stripes challenge. I love the silhouette of the early 1930's, and combine that with the fact that summer will be here before I know it...seersucker was really the only way to go for me. I certainly don't have the desired, long, waif-ish, figure of the early 30's, but I do like the comfort and femininity of this dress. It's not fancy (these were the year of the great depression after all), but I feel very girl-ish in it. I'm sorry I don't have a better photo of me in the dress. Bad lighting, and an even worse photographer are my excuses.
I found a couple of 1930's seersucker dresses
HERE
and
HERE
that were the original inspirations for my gown. However, the style evolved during the draping and drafting process. I secretly love it when this happens...I have a design in mind, and the creative process takes over and comes up with something completely different, but better!
HERE'S a Fancy Evening Gown from The MET
, from a later 30's date, that really influenced the shape of my day dress. Also, the gowns in the fashion plate at the top of
this
page, and the bright yellow chiffon dress 3 gowns up from the bottom of
this
page(although it's a 20's dress), really affected the overall design.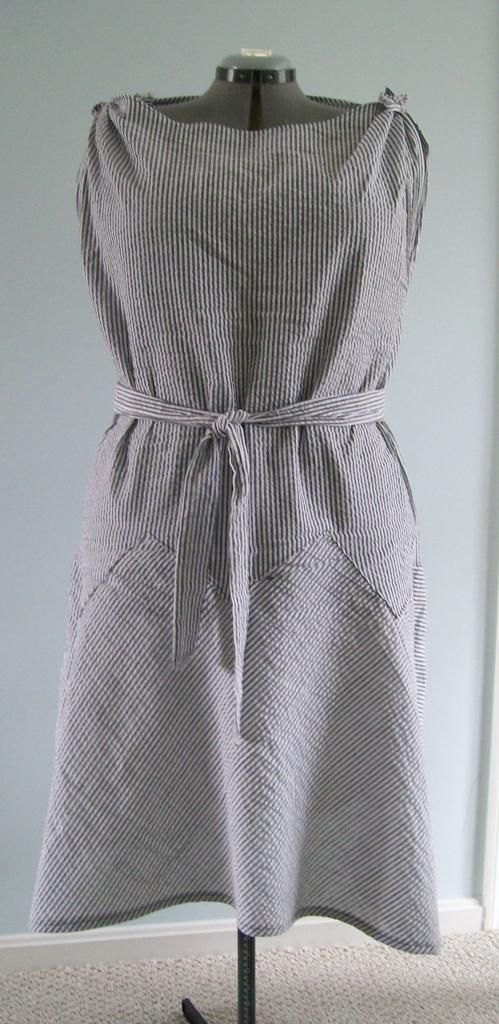 Just the Facts:
The Challenge: Stripes
Fabric: Dark grey and white striped Seersucker.
Pattern: I draped and drafted it.
Year: Very Early 1930's...transitional from late 1920's silhouette.
Notions: Zipper and thread.
How historically accurate is it? The fabric and style are accurate, the construction was merely a guess.
Hours to complete: Approximately 8 hours.
First worn: Last Saturday at a tea part.
Total cost: Maybe $15, but I bought the fabric with a gift card...so, technically, free to me.
~~~~~~~~~~~~~~~~~~~~~~~~~~~~~~~~~~~~~~~~
P.s. - We've sold our house (hurrah!), and are now in the process of moving. I'm surrounded by boxes and packing tape. I hope to be able to make a small, simple, hand sewn piece for the next challenge (accessories)...but I reserve the right to be late, or absent, if I simply can't find the time. Settling into our new home will certainly be big on my priorities list.