Historical Sew Fortnightly: Challenge #0
Happy New Year, by the way!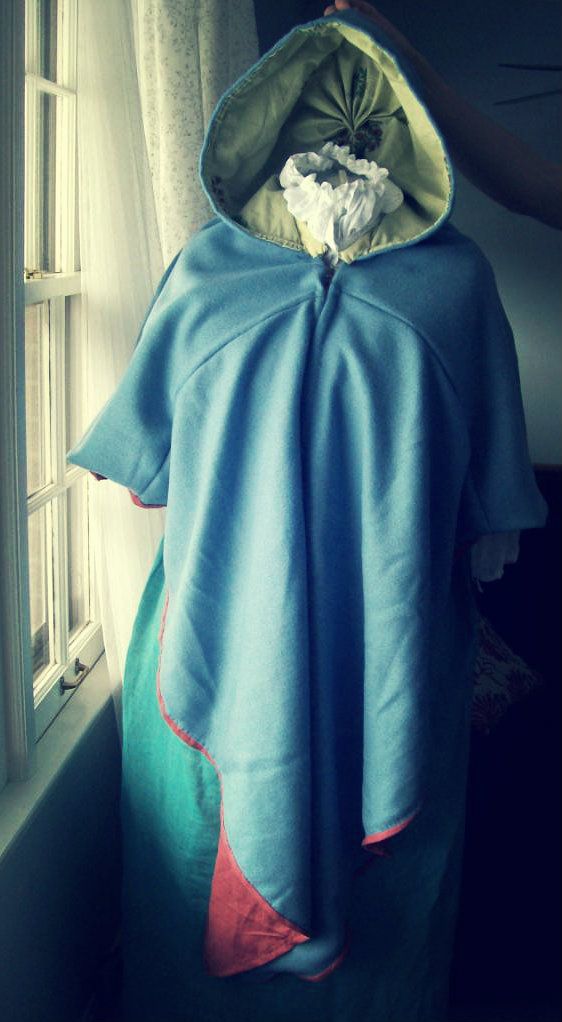 I really thought that making a cape would be a "starting simple" kind of project. But, it was actually a lot of hand sewing to do. Granted, it was cut simply, and had no crazy seams or fiddly buttons, etc, but the hand sewing just went on and on for days...straight seams, and nothing fun.
I'm not even sure I'm that pleased with it. I mean, it's a plain, wool, working class cloak...meant only to keep a body warm. Nothing special. But, it did ease me back into the historical sewing world...which, of course, was the whole point.
I'm looking forward to the
next Challenge
. The challenge is due on January 14th. I'm making a spencer from 1813...and it's made of velvet! Now THIS I am excited about!
Just the facts, Ma'am:
The Challenge: Starting Simple: A late 18th century cloak.
Fabric: Wool broadcloth, lined in the hood with block printed cotton, and lined in the cape with linen.
Pattern:
None, I draped it. But the over all shape of the cloak was inspired by the one in
Costume Close-up 1750-1790
(and several other capes throughout the cyber-museum sphere: namely
here
,
here
,
here
,
here
,
here
,
here
and
here
.)
Year: Late 18th century - early Regency
Notions: Cotton thread, two hooks and eyes
How historically accurate is it? Very historically accurate, I hope. It's completely hand sewn, using period techniques, and using appropriate fabrics.
Hours to complete: About 10 or 15???? (I'm guessing here...next time I will have to keep track.)
First worn: I haven't worn it yet.
Total cost: $40 (Also guessing here...as all of the fabric came from my stash, and was bought months or years ago.)