Jane Austen Quilt: A work in progress
Many moons ago...as in nearly three years ago...I came across
this article
about a quilt that Jane Austen and her sister Cassandra made. I fell in love with the quilt instantly. Seamstress...sewist...costumer...what-have-you....but quilter I am not. Thankfully, my mother-in-law, Margie, is a quilter, and an amazing one at that. She lives in California, and I live in Kentucky. So, we don't get the opportunity to see each other very often. I emailed her one day, and attached the said article, asking her if she might possibly make the quilt for me as a birthday or Christmas gift. I don't ask for much, now do I. I had no idea at the time just how hard of a task that request was. Like I said...I'm not a quilter. Margie was polite enough, and kind enough, to say she would look into it and see if it was something she could manage. (Bless you, Margie.)
About two years ago(I think?), my in-laws came to visit, and Margie and I went shopping for fabric together. Quilter or seamstress/costumer...it doesn't matter...one thing we both have in common is a love of fabric. But, being a lover of historical fashion/fabric, I immediately wanted to replicate the "exact" fabric, color, etc. Margie brought me out of my imaginary world and gently reminded me that I would probably have to work with what I could find. She also gave me a lesson in how to "clash" colors and patterns in fabric. The O.C.D. perfectionist in me wanted to stick with similar sizes of patterns and choose everything in the same hue. Apparently, this is bad for quilting. I'm learning.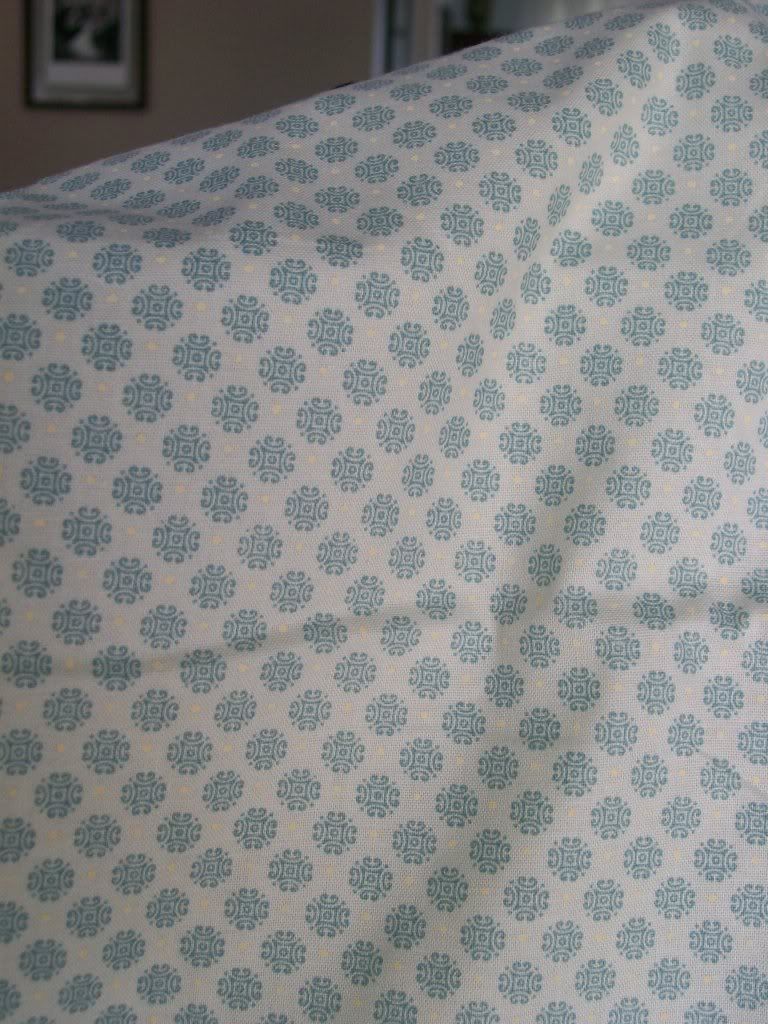 (for the backing...)
I did end up ordering some fabric on-line, and managed to find several fabric that had the Regency "feel" to them. So, even though I was a little bummed that I couldn't have my completely historically correct Jane Austen quilt, all in all, I was happy with our fabric choices. Margie took the fabric home to California with her, and other than a few emails/phone calls clarifying some details about the quilt, I left her alone to do her quilting magic.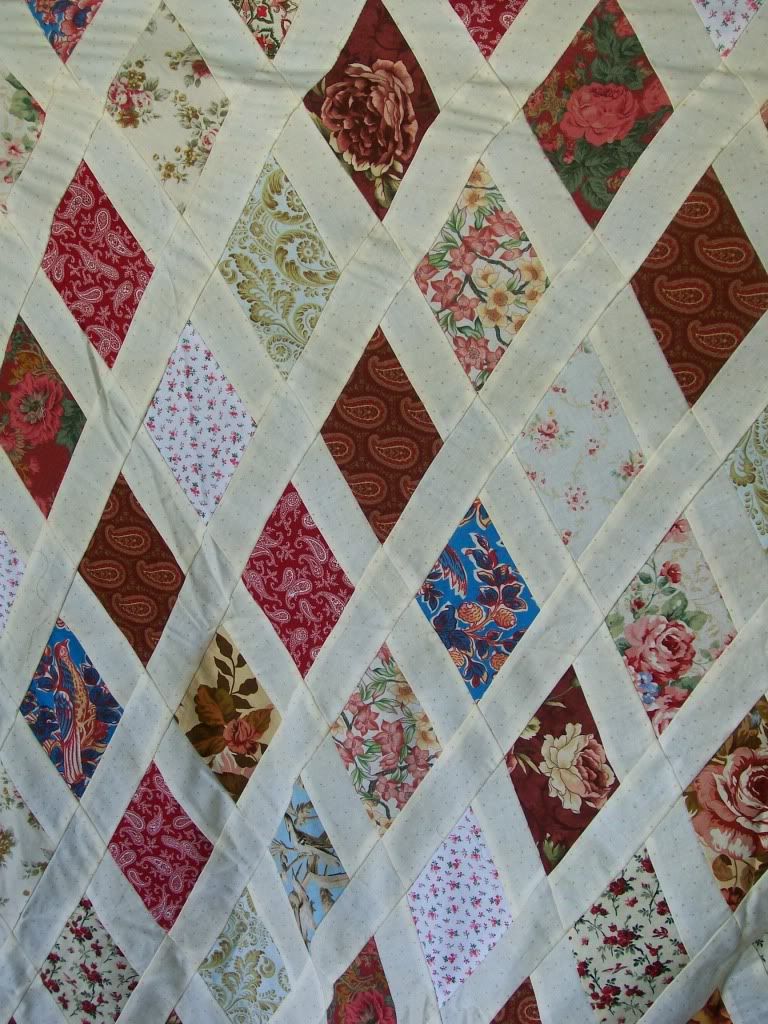 Last Christmas, upon visiting the in-laws, Margie revealed to me what she had accomplished. Wow...was I blown away. I knew she was good, but I didn't expect it to look nearly as close to the original as it did. It's not finished though....because, you see, Margie charged me with finishing the quilt. *gulp* She showed me what needed to be done to finish the border, and how to back the quilt...bought me a few basic quilting tools (ruler, cutters, etc) and set me loose to have at it. (I imagine she was getting tired of the wretched thing! I don't blame her.)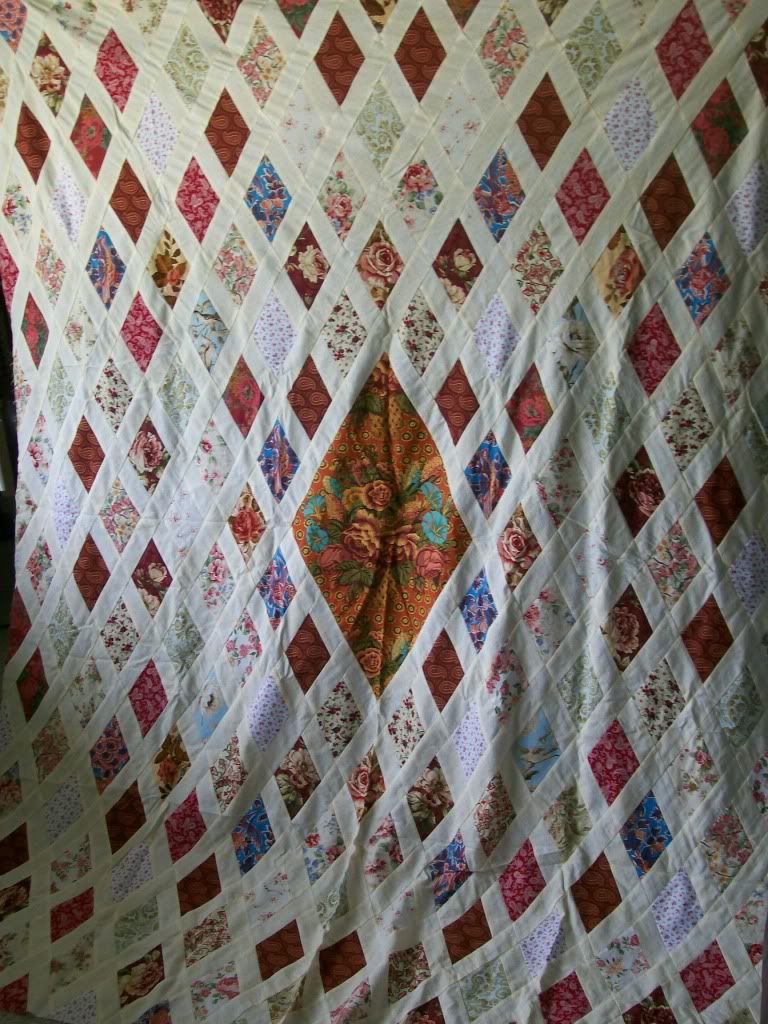 (Isn't it amazing!!)
It's been sitting in my sewing room, staring at me ominously since then. Soooo....I've decided to bring my quilting fears out into the open here, in hopes that you will hold me accountable. How can something so beautiful (a work of art, really) be hidden away like that. I absolutely HAVE to finish what she began. I'm sure it will take me at least another year to finish it. But now that this secret is out in the open, I have to work on...no excuses. Will you hold me accountable?