Historical Sew Fortnightly: Challenge #11: Squares, Rectangles and Triangles: Jane's Trousers(pantalettes)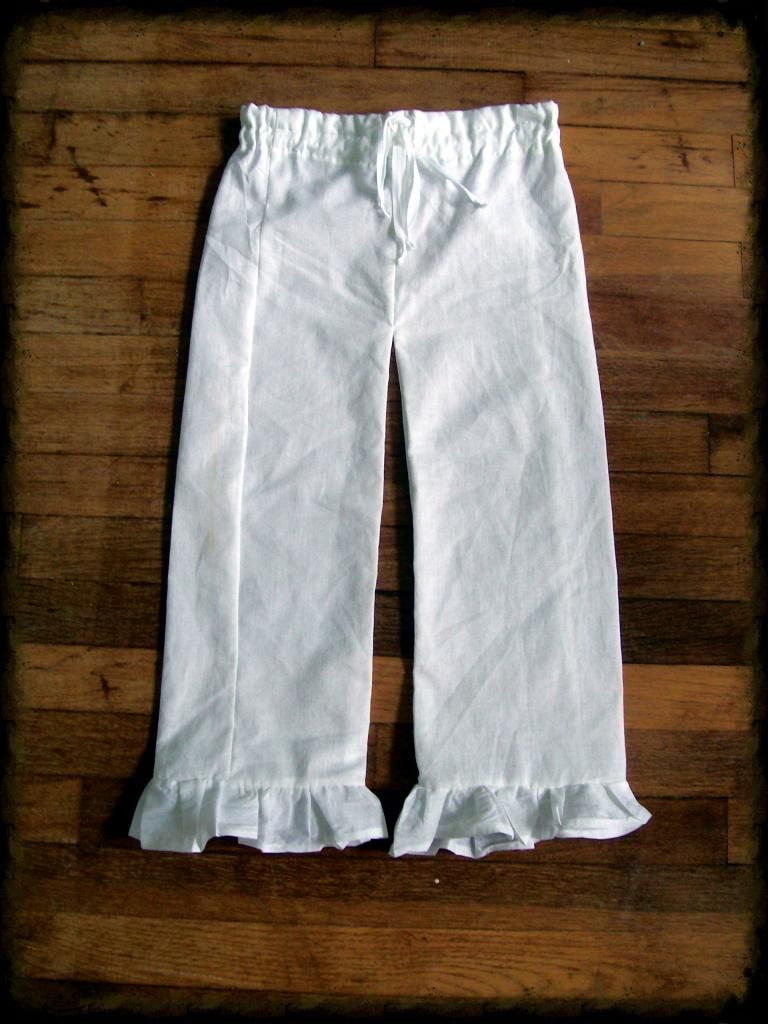 Unfortunately, I had to miss
The Dreamstress' Historical Sew Fortnightly
Challenge #11, due to the busyness of the last couple weeks of school. It is summer break now, and I had high hopes of catching up on my sewing projects. BUT...a few days ago I nearly guillotined the pointer and middle finger off of my right hand when trying to open a window. It was a very bad injury, and since my dominant hand is the one injured, it's nearly impossible to do almost anything (typing included...slow going with only the left hand and right hand pinky finger and thumb.) Alas, it looks like any hand sewing will be off the table for several weeks. I might be able to do a little machine sewing, we'll see.
I've been wanting to make Jane a pair of Georgian era pantalettes for quite a while now. She isn't the...umm...most lady-like when she plays in her gowns...these will most assuredly save her and me embarrassment. I adore the ones in the 1809 fashion plate above, with the ruffles and tucks. Before the finger injury, I was planning on adding in three rows of tucks to Jane's pantalettes...but that will have to wait now...so please excuse their long length.
Isn't the above painting of a brother and sister, by Adam Buck, c.1810, adorable! Usually, I lean more toward the early Georgian/Regency era when I create clothing for Jane and me. So, I'll admit that I'm stretching it a bit by making Jane a pair of pantalettes, because from the research I did, pantalettes didn't seem to be quite as popular in the early Georgian/Regency era as they were in the later years. By the time the Victorian age came along, they were positively required.
Sorry about the poor quality of the image above.
I don't even know who the artist was, or who the family is
(Thanks to
Sarah W.
I now know that this is a portrait of the Jewish Nathanson family, living in Denmark, in 1818, by C.W. Eckersberg)....but I can tell from the fashion that the era is later Georgian/Reagency. Notice the Pantalettes on the three young girls in the front.
This is a Portrait of Napoleona Elisa Baciocchi, 1810, by Marie Guilhelmine Benoist. Pantalettes with ruffles, and possibly lace.
And isn't this the cutest little girl EVER! She's Ekaterina Dmitrievna Obreskova, c. 1820 (so much later than I would have liked) but I'm not sure who the artist is. Again, tucks and lace. I adore her bonnet and little red shoes!
Now let's talk construction.
These Linen Pantalettes from MFA Boston
show what I suspect was probably the norm for construction...two tubes of linen, one worn on each leg and
tied together around the waist
(thanks to a couple of ladies from the Facebook HSF event, I now know that these didn't tie around the waist, but around each leg...many pantalettes were lost because of this.) I considered this, when beginning my project...after all, they are made with rectangles...but in the end, I altered how I made Jane's pantalettes because, (a: no one would see the top of her pantalattes under her gown...so who would know, and (b: I wanted easy access for her when she needed to go to the bathroom. I know that the tape around the waist would have been too complicated for her, and she would have put up a big fuss about peeing between the gap in the pants. In this case, historical accuracy just wasn't worth it to me.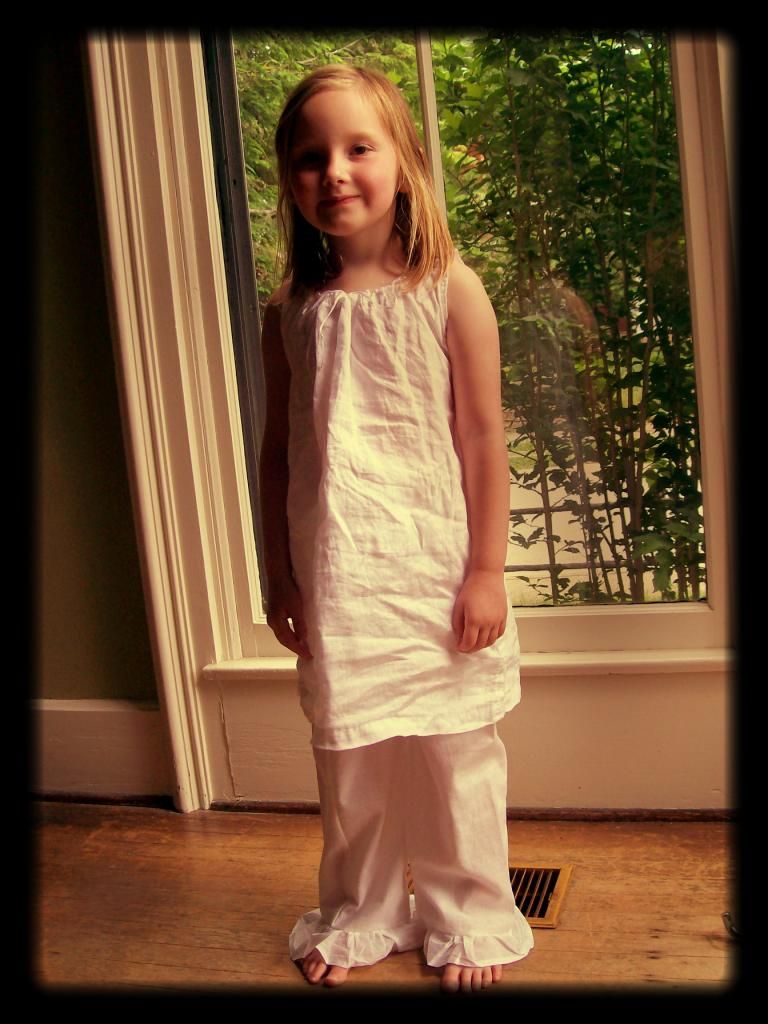 Here you can see the length of the pantalettes...three rows of tucks should ensure a proper length and room to grow for a few more years. Jane wasn't to thrilled about having her picture taken in her Regency underwear. I could barely coax a smile out of her.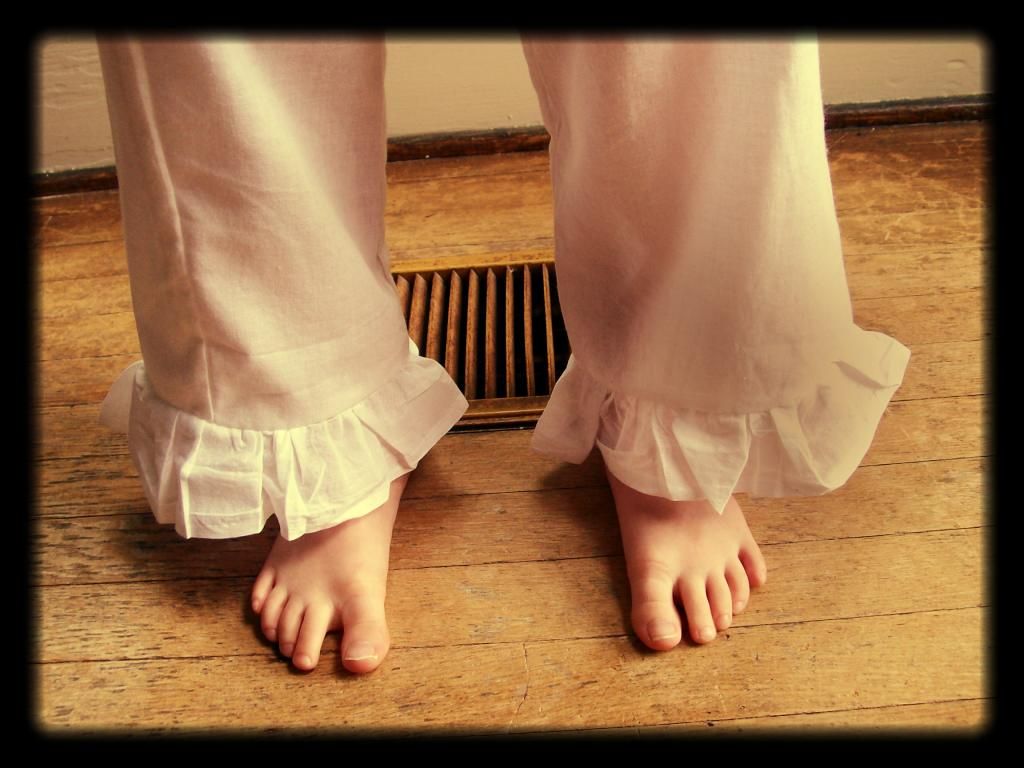 The ruffles...pulled off of the floor so you can get a proper look at them. Just little gathered rectangles.
Each pant leg is made from two rectangles, but I had to piece them, so the seam isn't on the side as it should be. I'm not bothered by it, because they are only children's pantalettes, and piecing is period correct. I stitched two channels in the waist band, and used some left over bias tape to create drawstrings. They almost remind me of gentleman's boxing pants (or modern pajama pants.) Jane says they are very comfortable.
Just the Facts
The Challenge: Squares, Rectangles and Triangles: Jane's Georgian/Regency Pantalettes
Fabric: Cotton muslin
Pattern: None, drafted using only rectangles
Year: Later half of the Georgian/Regency era (c.1809-1820)
Notions: White thread, bias tape
How historically accurate is it? Mostly...it's hand sewn, proper materials, and based off of paintings and fashion plates of the time. Being used for a slightly earlier date than typical, and construction was modified from original garments.
Hours to complete: 4 or 5, maybe.
First worn: only for try-on.
Total cost: Free...used scraps and pieced.