She's Alive!
I'm back from the land of the living dead (well, sort of). I am taking a few moments for myself, taking a few deep breaths, drinking some coffee, listening to a little Debussy, and peeking in on my blog today to let everyone know that I am still alive. I've missed my humble little blog. When I started this blog, I hadn't planned on it being such a cathartic place. I don't think I ever want (or intended) my blog to be any kind of big thing. I sometimes get a little envious of some of the gorgeously laid out, colorful, advertisement filled blogs that I love to read, and at times I wonder if I shouldn't have a "professional" look at my blog to help me spruce it up. But, those moments don't last long. I love my small, cozy little nook. I noticed a few more followers joined up while I was away. I want to say thank you to everyone who visits me here in this humble place. I love reading your comments...and I love knowing you are out there.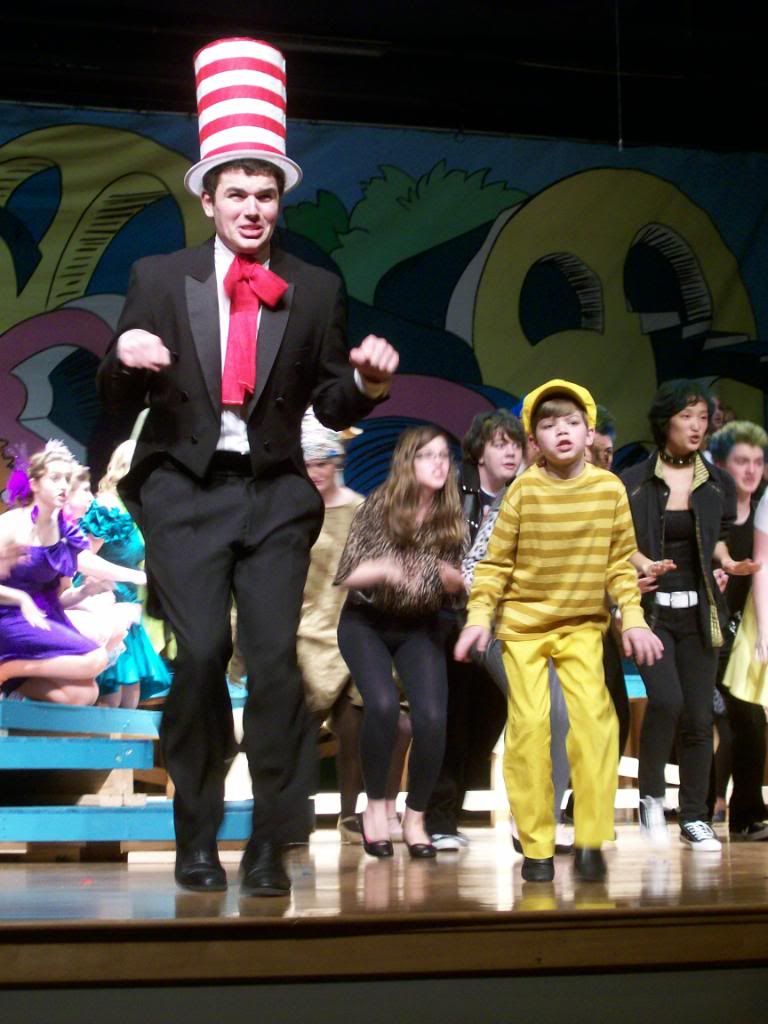 I am rounding third base, and running hard for home with the musical. This week is the final week of rehearsals for Seussical. The production plays out March 2nd, 3rd, and 4th. There have been many late nights, and busy weekends recently, but in just a few days, it will all be over. I'll be sure to post a ton of photos when all is said and done. In the mean time, enjoy the sneak-peek above!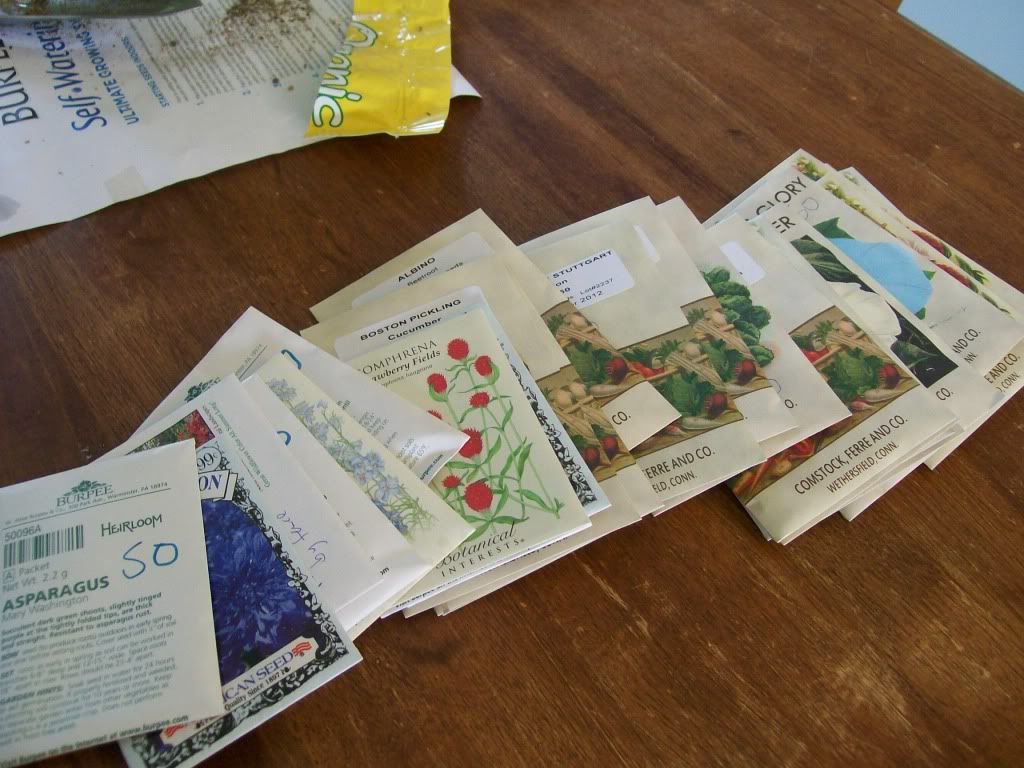 In the midst of all the Seussical absurdity, I've also been planning my garden. I couldn't let the crucial indoor seed planting time slip past me. I ordered seeds from a few different companies. But two of them that I really loved for their rare, organic and heirloom seeds were
Comstock, Ferre and Co.
and
Botanical Interests
.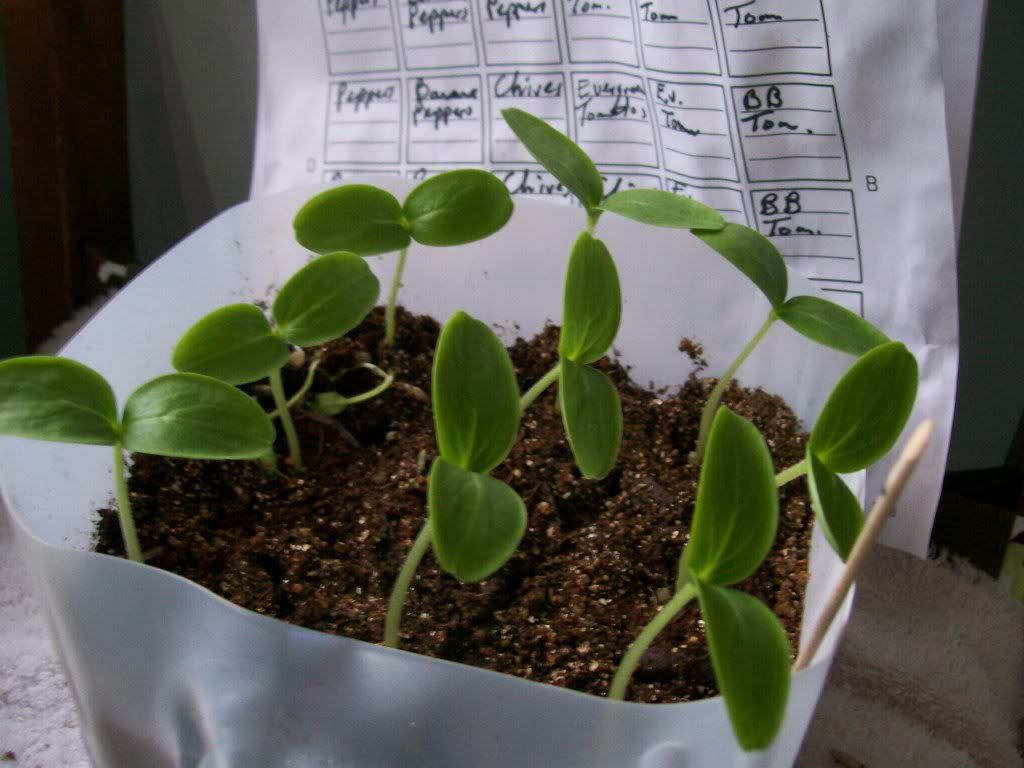 Last weekend was a warm and mild one, and I went outside for a bit to enjoy the weather. I weeded, and churned up the winter garden soil, so that in three weeks or so, it will be ready to take on some seeds and seedlings.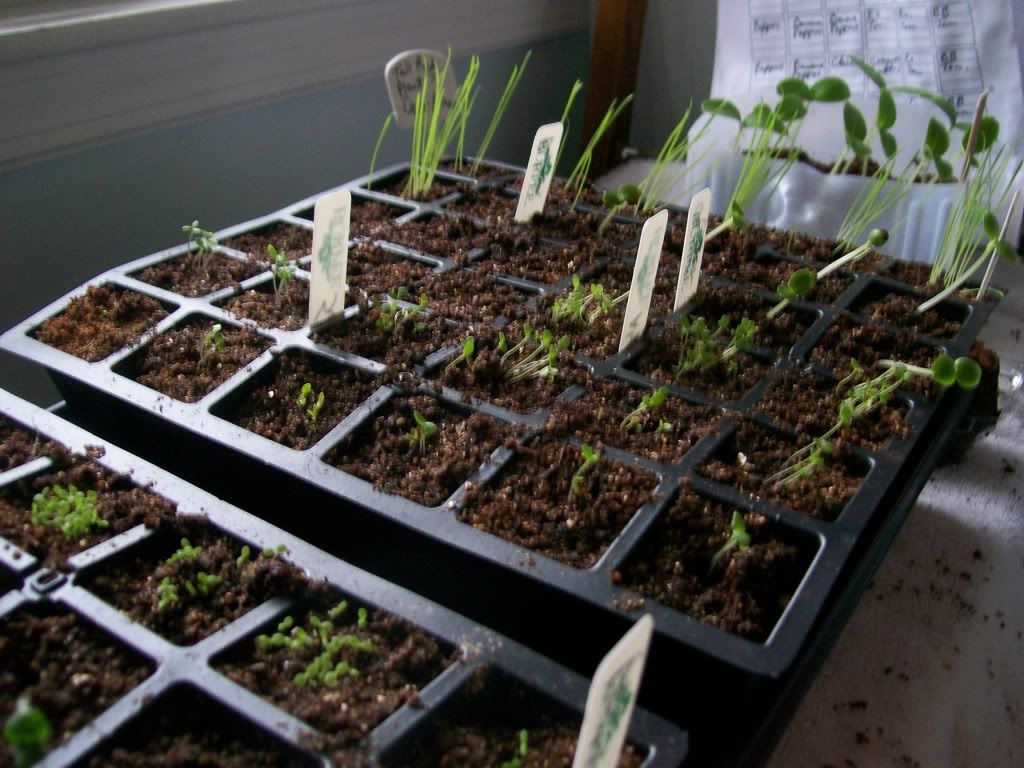 This year's garden will be home to many varieties of plants and flowers. In the eatable section we have bell peppers, banana peppers, chives, a couple of different types of tomatoes, dill, basil, sage, cilantro, cucumbers, onions, leeks, beets, radishes, swiss chard, kale, boston lettuce, and spinach. I'm even going to start an asparagus patch, although I know I won't benefit from it for another two years.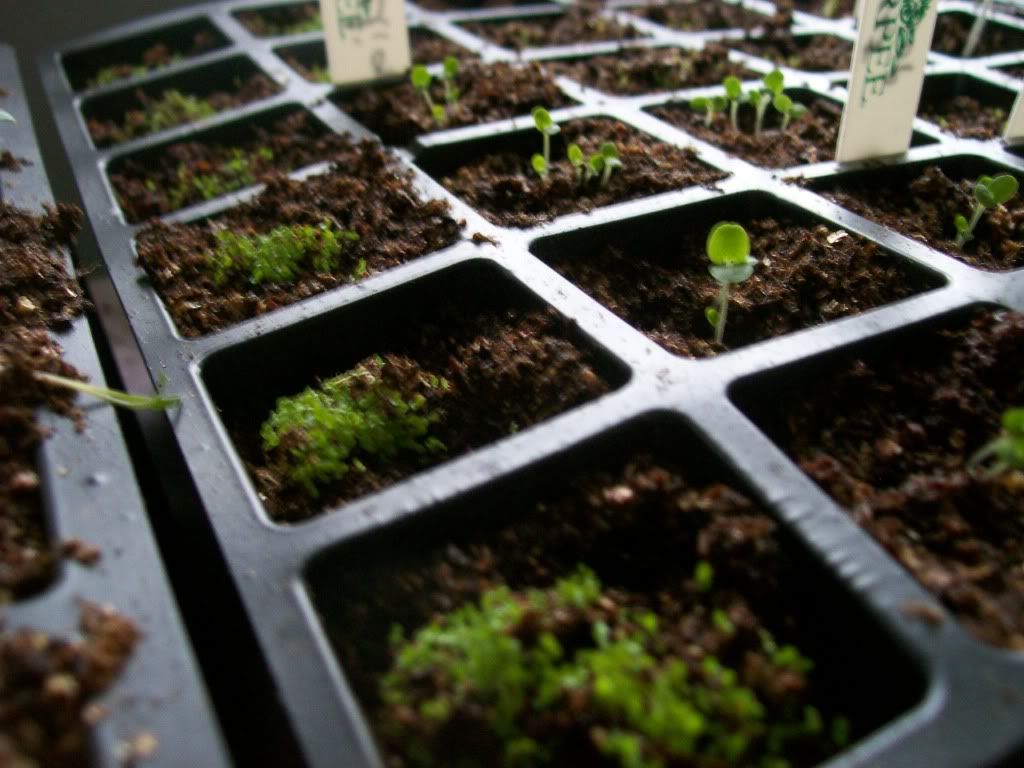 I love the names of some of the heirloom flowers we are planing this year...names like Bells of Ireland, Indian Peace Pipe, Sunset Hyssop, Crystal Palace Lobelia, Bunny Tails, Chinese Lanterns, Moonflower, Love Lies Bleeding, Evening Primrose, and Sweet William...I could go on and on. I dream of Spring right now.
Something else that I've been dreaming about...Chickens. I'll say no more about this, because I don't want to get your(or my) hopes up.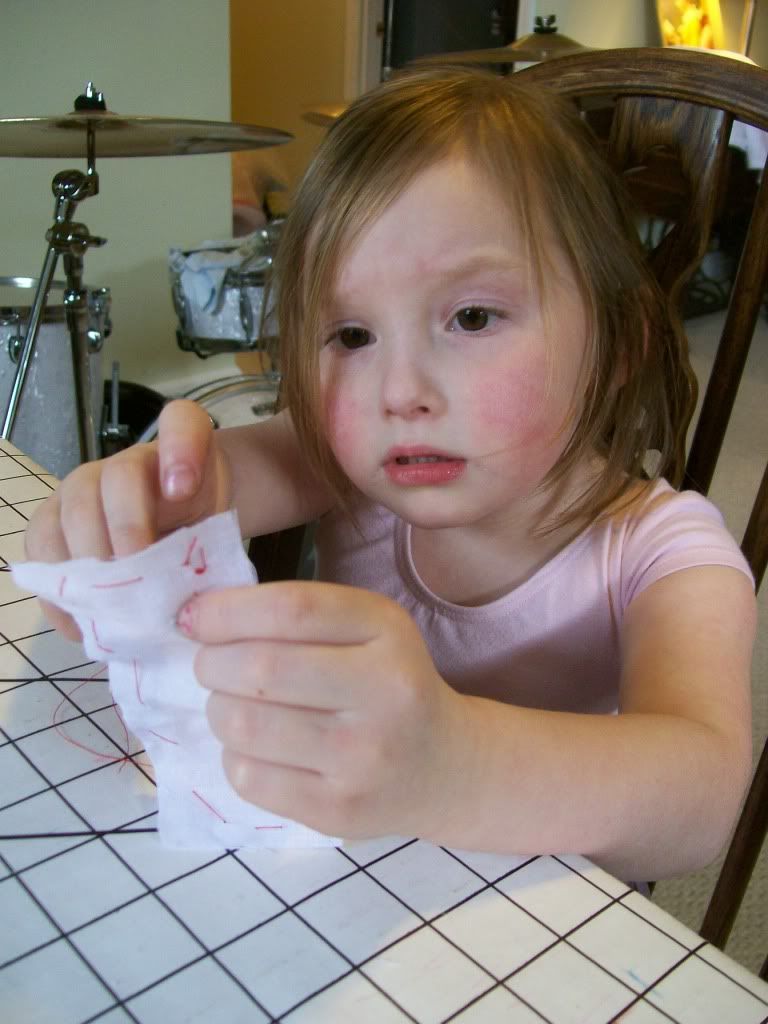 (fierce concentration)
With all of the costuming I've been doing lately, Jane has expressed an interest in learning how to sew. I started her off with sewing cards...little cardboard animal shapes, with holes punched in them around the edges. She used a piece of string to get the hang of it. It didn't take her long before the cardboard animals were mastered, and she was begging to use a needle and thread.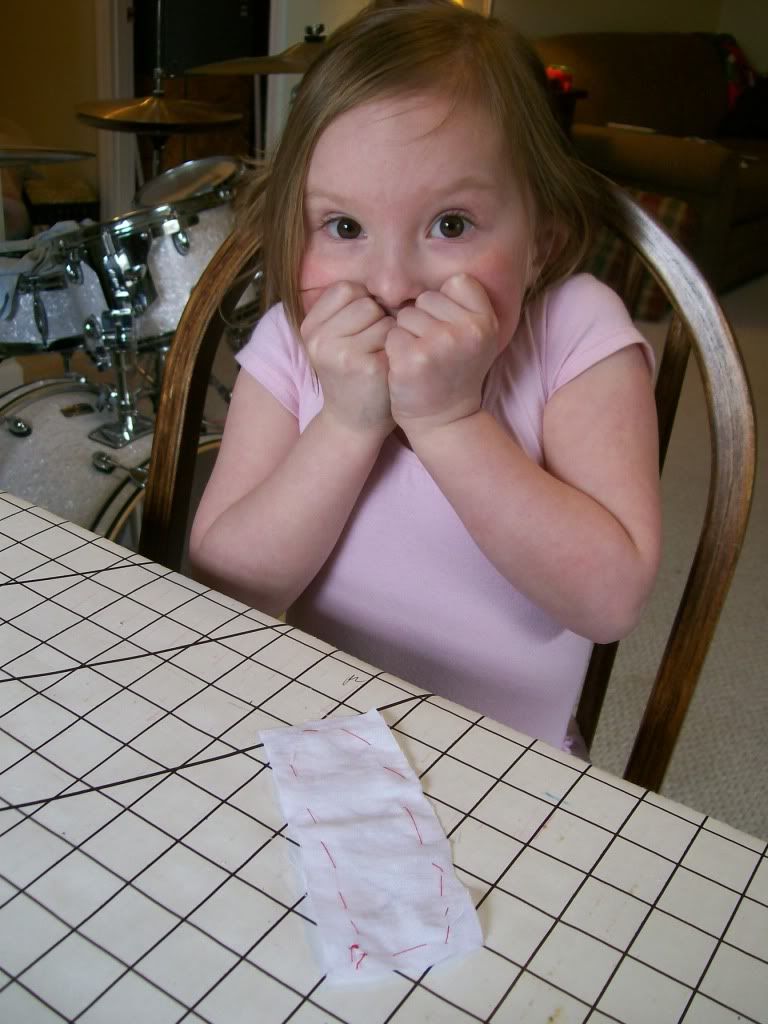 Under supervision, I passed on the baton, and gave her a piece of linen, a large, slightly blunt needle, and a red piece of thread. I had to knot the thread, but with guidance, she slowly made her way around the edge of the linen.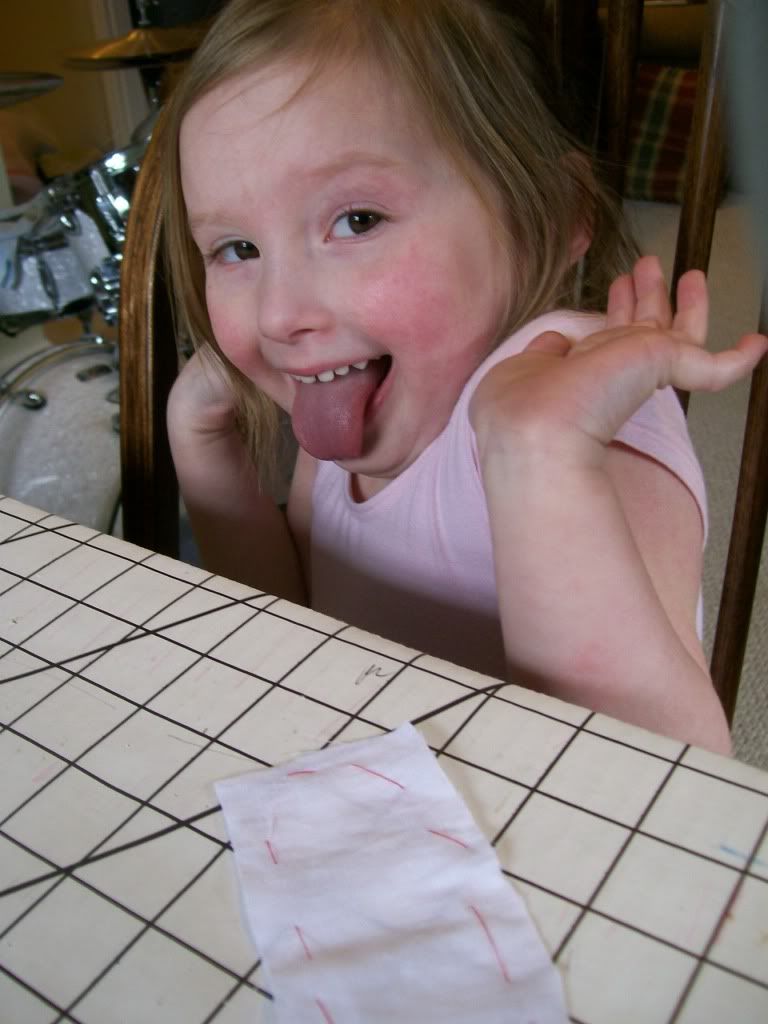 She was extremely proud of her work, grinning from ear to ear. I tried to take a civilized photo, but she would have none of it. These were the best I could get.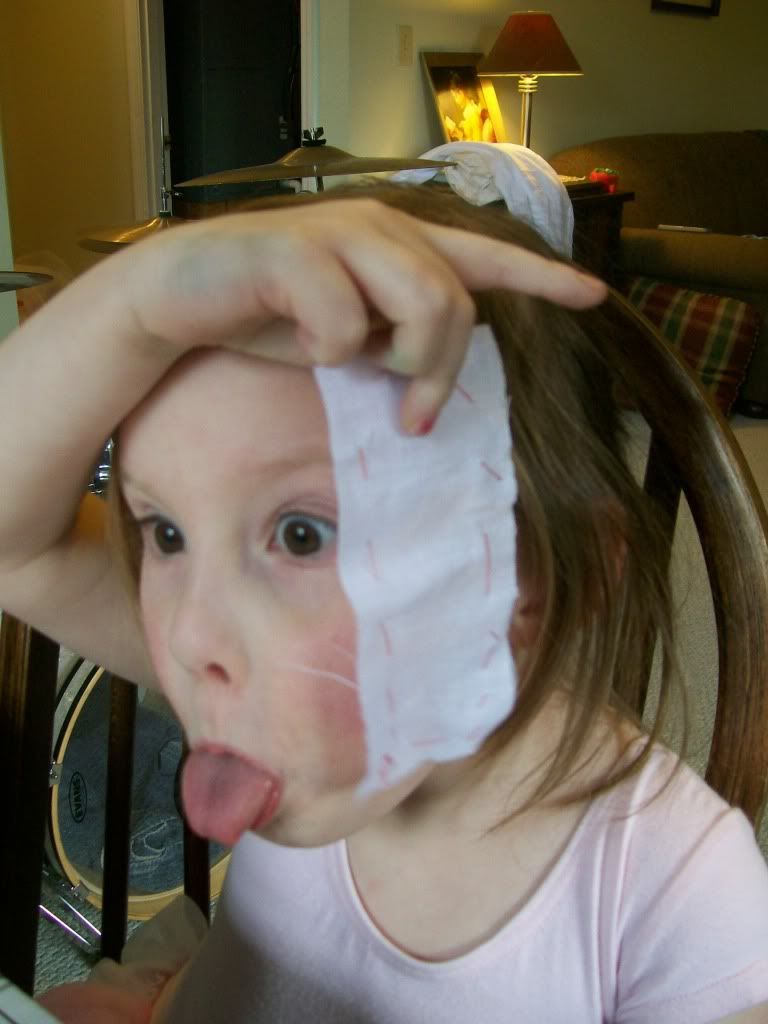 As soon as she was done with the linen, she asked if she could make a dress now. Ummm...I'm thinking that being ambitious must run in the family...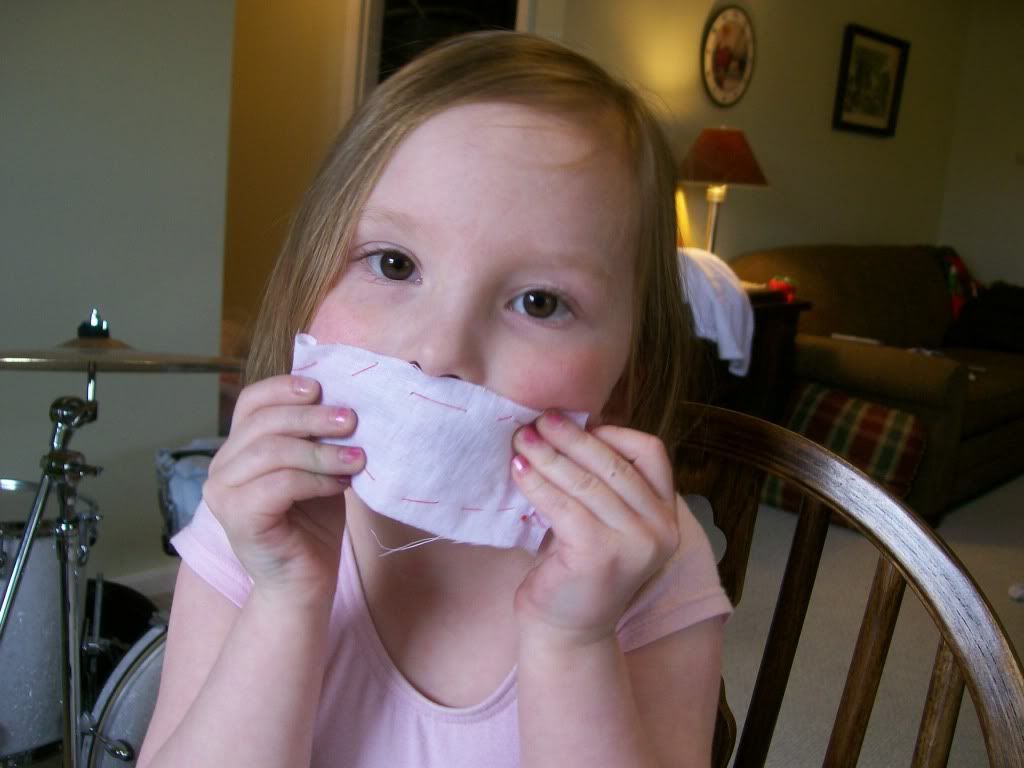 ...and possibly being dramatic too.